LAS VEGAS - Dar Heatherington flew out of Las Vegas on Wednesday and returned to Great Falls, Mont., for questioning by local police.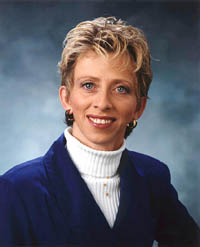 Dar Heatherington (AP PHOTO)
The 39-year-old alderman from Lethbridge, Alta., walking with a slight limp, landed at Great Falls, accompanied by her husband David and police officers.
Heatherington did not speak to reporters as she was led to police headquarters.
There was no statement from police or her husband, who is Lethbridge's deputy fire chief.
She disappeared on Saturday in Great Falls.
Heatherington turned up in Las Vegas Tuesday night where she was located at a hotel after police received a complaint of a distraught woman in the valet area of the Treasure Island Casino at about 10:30 p.m. local time.
Las Vegas police spokesman Jose Montoya said Heatherington claimed she was abducted.
"She said she thinks she might have been sexually assaulted," Montoya told CBC Newsworld.
Heatherington told officers she was taken from Great Falls against her will and may have been "given something."
"By that we don't know if she meant she was drugged or what she was talking about because she would not elaborate," said Montoya.
Police took Heatherington to the University Medical Center in Las Vegas, where she spent five hours before being released Wednesday morning, apparently in good health.
Montoya said Heatherington told police she was too tired to speak with them much, but said she wanted to press charges. He said Heatherington resisted a medical examination at the hospital.
Meanwhile, a family friend in Lethbridge said that Heatherington believed she was being stalked. He said incidents began with phone calls, then letters, then a prowler was seen in the back yard of her home.
The family had been in touch with Lethbridge police over the concerns, said the man, who wished to remain anonymous.
Las Vegas is about 1,600 kilometres south of Great Falls. A police officer in Great Falls said it isn't known how she got to the southern Nevada city.
Written by CBC News Online staff