LETHBRIDGE, ALTA. - Police in Lethbridge say alderwoman Dar Heatherington, who disappeared over the weekend, has been found alive and well in Las Vegas.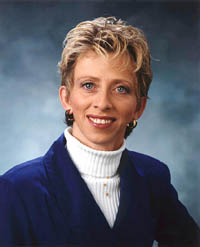 Dar Heatherington (AP PHOTO)
Staff Sgt. Chris Slexhaug says Heatherington, 39, was located Tuesday night in Las Vegas. Police reportedly picked her up after receiving a complaint of someone wandering around a hotel.
Heatherington was taken to the University Medical Centre in Las Vegas, where she spent five hours. She was released Wednesday morning, apparently in good health.
Heatherington's husband, David, is reported to be heading to Las Vegas to meet her. David is the deputy fire chief of Lethbridge.
Las Vegas is about 1,600 kilometres south of Great Falls, Mont., where she was last seen Saturday morning. A police officer in Great Falls said it wasn't known how she got to the southern Nevada city.
Lethbridge Mayor Bob Tarleck said he welcomed the good news and he's happy Heathington's three children will have their mother back again.
Tarleck did admit that there will be mixed reaction in Lethbridge to her reappearance. He said some people will wonder what Heatherington was doing in Las Vegas.
Montana police said Tuesday that police in Lethbridge were aware of Heatherington and her family before she went missing, although they wouldn't be more specific.
Heatherington had gone to Great Falls on a business trip with other Lethbridge politicians.
After checking out of her hotel Saturday morning, Heatherington phoned home to say she wouldn't be back in time for a piano recital by one of her daughters.
She then cancelled her scheduled meetings with local officials.
A pawn shop owner in Great Falls said Heatherington bought a used mountain bike. He said she told him she wanted to ride some of the trails along the river.
Written by CBC News Online staff