Bail hearing offers details of Halifax standoff
July 7, 2004
CTV.ca News Staff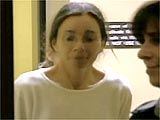 Carline VandenElsen
A bail hearing has offered an unexpected glimpse into a three-day armed standoff in Halifax. Mona Finck, the woman who died during the May ordeal, wanted a doctor and a priest, but police wouldn't let either in the house.
Wednesday's hearing was for Carline VandenElsen, 41, who is seeking bail on three charges stemming from the incident: obstructing police, forcible confinement and breaching a court order.
Her partner, Larry Finck, who is Mona's son, is facing the same charges, as well as six weapon-related charges.
ATV's Rick Grant reports there were times during the bail hearing when police and VandenElsen offered similar stories.
VandenElsen said she and the family were awakened around 1 to 1:30 am on May 19 by loud banging on the front door of their home. Police were coming in with a battering ram. Children's Aid workers had called police to help enforce a court order to apprehend a baby.
VandenElsen confirmed that the door was being barricaded from the inside, and that a shotgun blast was fired through a window over the door and pellets lodged in a house across the street.
VandenElsen said there was a single shot fired to let police know she was not giving up her baby.
Tapes of phone conversations were played in court. In one tape, VandenElsen said they wanted to leave the country and not return, but seek political asylum.
Const. Tom Martin testified that there were concerns over the health of Mona Finck who died during the standoff.
He said one doctor was brought to the scene and volunteered to go in, but a police commander refused to allow a civilian inside the house under the circumstances.
The ailing woman refused an offer to come outside the house to meet the doctor. She asked for a priest but he wasn't allowed in either
VandenElsen's lawyer questioned Martin about another taped conversation in which the policeman pleaded with her not to walk outside the house, asking if there was any thought to shooting.
VandenElsen broke down when she was asked if she would leave the country if granted bail. She said: "My baby is still here ... I can't leave without my baby."
Crown attorney Len MacKay opposes the woman's release, claiming she is a flight risk and poses a danger to the public.
The judge is expected to make a decision on bail this week.