Posted on Sat, Jul. 10, 2004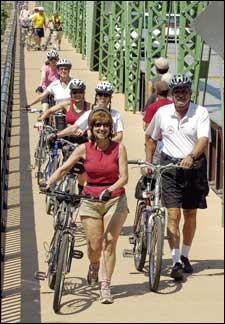 AKIRA SUWA / Inquirer
Leading the Valley Forge SOBs (Singles on Bikes) across the New Hope-Lambertville Bridge are Viviana Amzel and Al Schiavo. "Being on my own I need an environment. It's having a group of people to do things with and not have to worry about being hit upon." Amzel, of Gladwyne, said of the group.
At a tad under 3 m.p.h., last Saturday's moonlight singles hike through the Pine Barrens was a little slower than what you might find on a typical organized outing - "a pace that you can walk and talk without gasping for breath," said leader Paul Serdiuk. He chatted with newcomers along the sandy fire road, to make them feel at home. When a woman developed a blister, he checked her footwear and found a volunteer to take her back on a shortcut.
Perhaps more than anything else, it is this subtle concern for people's comfort zones that makes the hikes, bike rides, kayak trips and occasional overnights Serdiuk leads for the Outdoor Club of South Jersey so attractive. That and the food - often very good, homemade food - everyone brings for a picnic at the end.
"Food," Serdiuk said, "gets people talking."
Events billed for singles obviously tend to draw people who are not in couples. Beyond that, their reasons for coming vary.
"Being on my own I need an environment," said Viviana Amzel, 50, of Gladwyne, a legal consultant whose "environment" includes the Valley Forge SOBs (Singles on Bikes).
She spent Saturday with the SOBs, riding back roads from Plymouth Meeting to New Hope. On Sundays, she often meets 20 or 30 members of their 300-strong parent group, the Valley Forge Walkers, for a five-mile tour of the national park.
Did she join looking for a relationship?
"It's exactly the opposite," said Amzel, who is divorced. "It's having a group of people to do things with and not have to worry about being hit upon."
Moving briskly along a path in Deep Meadow Park in Horsham, Ted Roth pondered how an event with the Outdoor Singles organization he belongs to differs from a day with, say, the broad-based Appalachian Mountain Club. Nearly a quarter of American adults are single, so any group hike or bike ride gets plenty of unattached people.
"It's an affinity thing," concluded Roth, who is 69 and divorced, as he finished the group's regular Wednesday-evening walk. The commonality is total: "We are single."
Maybe this sensible talk, the seemingly hormone-free language, comes with age. Outdoors singles groups attract a wide age range, and there is a large bulge at mid-life. Many have experienced heartache and failed marriages; in quite a few cases, loneliness had them seek companions on the trail.
It's not that they don't want romance. It's just not all they want.
"I read all the self-help books just coming out of a relationship breakup, and they all said if you want to meet somebody, do something you'd like to do," said Serdiuk, 56, who is, of course, single.
Six years ago, he approached the Outdoor Club of South Jersey with the idea of starting a singles group. He bought books about local hikes and bike rides and went into the woods to plot routes. He did surveys on early trips. (They didn't want dogs along, "and people didn't want kids, especially women who deal with kids all week.")
He now has 258 people on his e-mail list; a recent query brought 18 sign-ups in a single day for a moonlight kayak trip.
Serdiuk, a director of staff development in Trenton who holds a master's in counseling, likes the conversations on outings, especially around a campfire on an overnight.
"There's a lot of sharing," he said. "When do you introduce a significant other to the children? When do you go to bed? The inequities in pay scales between men and women."
Last Saturday, the scent of DEET wafted over a field in the pines as 32 people gathered for his six-mile singles hike. Women outnumbered men by a 3-2 ratio. Dress was woods-casual.
Fran Gold, 46, a teacher, joined the Sierra Club for political reasons. But she is divorced, and was intrigued by Serdiuk's hike, cross-listed by the club.
"When you're in a situation where you're doing something that you like to do and then you meet somebody, you have something in common," she mused.
Does it make a difference?
Currently, Serdiuk said, 12 dating pairs started on his outings. "Fourteen couples who have met on my hikes are married."
Another e-mail arrived this week: "Make that 15."
---
Contact staff writer Don Sapatkin

at 610-313-8246 or dsapatkin@phillynews.com.

http://www.philly.com/mld/inquirer/sports/outdoors/9117482.htm?1c