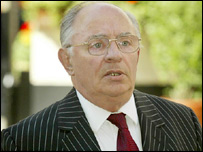 David Selwood said he had no sexual interest in children
A former circuit judge who pleaded guilty to child pornography charges has been spared a jail sentence.
David Selwood, from Winchester in Hampshire, pleaded guilty to 12 counts of making and possessing indecent images of children.
The 70-year-old was charged after police found 75 images of naked and semi-naked boys aged between eight and 14 on his laptop computer.
He was given a 12 month rehabilitation order at Bow Street Magistrates' Court.
The courts look gravely on this type of offence because it involves the exploitation and abuse of children

Senior District Judge Timothy Workman
Judge Timothy Workman said Selwood would not have to attend a sex offenders' programme as he believed the necessary advice and guidance could best be provided through regular contact with a probation officer.

Mr Workman said: "The defendant is a man who until now has had an exemplary record and who has throughout his career in both the Army and in the law provided long and distinguished public service.

"Nevertheless, the courts look gravely on this type of offence because it involves the exploitation and abuse of children, and the court's first concern must be to them."

Selwood, who began his law career in Plymouth, claimed he was curious to see how difficult it was for someone with few computer skills, like himself, to find such images.

In a statement to police he said he never had any sexual interest in young children but admitted it would be difficult to describe his actions as "research".

No case review

Earlier this year, while still a judge, Selwood accepted a claim by a defendant who was a world authority on child abuse that he had downloaded child pornography for research purposes.

Selwood described Professor Christopher Bagley as "naive" for accessing the indecent images without seeking legal advice or consulting colleagues.

Bagley was given a three year conditional discharge.

In another case in 2001, Selwood released a paedophile back into the community under supervision after the man broke an order banning him from contacting young people.

The Crown Prosecution Service said there were currently no plans to review child pornography cases on which Selwood had presided as a judge.

Natasha Finlayson, Director of Policy and Communications at ChildLine, welcomed the way the legal system had dealt with the case, despite the images being classified as the least serious "level one".

She said: "This clearly sends out the message that to possess these images is a serious crime.

"The message is also clear in this case that senior and influential figures in the judiciary are not above the law."