By Chris Summers
BBC News Online in Fallingbostel, Germany
Jan Macken, like his father before him, joined the British Army, served in Germany and married a local girl.
But his wife, Tanja Macken, says: "His German was not that good when we met. He chatted me up in English."
Jan and Tanja Macken and their daughter Zoe

The couple met in an English-style pub near the British Army base in Paderborn nine years ago. At the time Tanja was an architecture student.

They married in February last year and now live in married quarters in Fallingbostel, not far from Hannover. Their daughter Zoe was born in May.

Tanja says: "My sister, Anke, was married to a Dutch soldier and my family didn't have a problem with me marrying a British soldier."

Since they have been together Corporal Macken, who serves in the 2nd Battalion Royal Tank Regiment (2RTR), has been posted to Cyprus, Kosovo and Iraq.

When they are separated the couple communicate by phone, letter or a system of Army e-mails known as "e-blueys".

Army wives

Like all army wives Tanja was left behind and had to learn to cope on her own.

But she says: "A lot of my friends were married to soldiers so I knew what I was letting myself in for."
| | |
| --- | --- |
| | I was terribly worried that he might be injured or something |
"There is good welfare support but it's hard when he is away," she adds.

It was especially hard for Tanja last year when Jan's regiment was among those which invaded Iraq as part of Operation Telic.

She says: "I was terribly worried that he might be injured or something. The e-blueys were very good. They only took two or three days to arrive whereas letters were taking two weeks.

"I was very relieved when he eventually came home."
Victim of IRA

In September 1989 Heidi Hazell, the 26-year-old German wife of a British soldier, was shot dead by a Provisional IRA gunman as she sat in a car outside her married quarters in the town of Unna Messen, near Dortmund.
Tanja says the army wives rally round and help each other out when the men are away on duty.

"We go to each other's houses or meet in the family centre and we take it in turns to babysit," says Tanja.

Like father like son

Jan was born in Germany when his father, Phil, was serving with the Royal Electrical and Mechanical Engineers in Detmold.

He says: "When I was younger I had German friends and more or less grew up with them.

"People in the UK reckon that Germans are arrogant and don't have a sense of humour but that's not true. You come over here and travel around and get more broad-minded."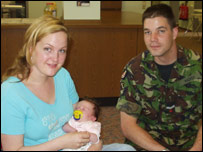 The Mackens hope Zoe will grow up bilingual

Jan believes the standard of living is higher and the quality of life better in Germany but there are some things which he struggles to understand.

Under German law it is forbidden to hang washing out on Sundays or wash your car in the street.

The Mackens plan to bring up Zoe bilingually but have not yet decided where to educate her.

Zoe may end up going to school in England as 2RTR are due to move to Tidworth camp on Salisbury Plain next year - after 12 years in Germany.

Tanja says: "I will go where Jan goes and if that means going to England then so be it."