Security guard to be charged with murder
Sydney
August 1, 2004 - 2:28PM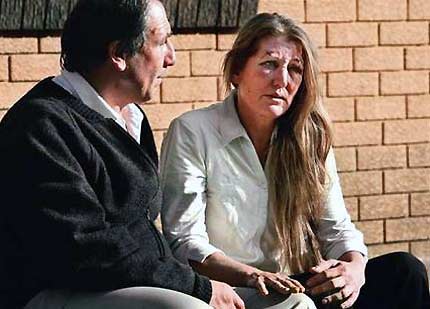 Karen Brown shows the injuries she received in the attack last week.
Picture:Getty images
A female security guard who fatally shot a robber who attacked her is set to be charged with murder, NSW Police said today.
Karen Brown has until 6pm (AEST) to hand herself in to police in southwest Sydney, police said.
So far, Ms Brown has refused to be formally interviewed by investigating officers, saying she has been in no mental or physical condition to do say, despite having spoken to two media outlets.
Police said they had been told repeatedly by Ms Brown's barrister, Joseph Busuttil, that she was unfit to speak with them.
Liverpool Police Superintendent Terry Jacobsen described it as ''inappropriate'' that Ms Brown had conducted an interview with a newspaper and, reportedly, been paid for another interview with the Seven Network's Today Tonight program.
''We have been advised ... that she has been unfit to speak to police for medical reasons and we have accepted that and respected it,'' Supt Jacobsen said today.
However, he said the media interviews had meant police ''may have to proceed without the benefit of hearing from Ms Brown on these matters''.
''If she doesn't surrender herself by 6pm this evening, we will issue a court attendance notice for the offence of murder based on the evidence we have gathered to date,'' he said.
The 42-year-old Rooty Hill woman shot and killed William Aquilina moments after he attacked her with a knuckleduster and stole a bag of cash she was carrying out of the Moorebank Hotel.
The Elite Guard Force security officer's skull, an eye socket, nose and left hand were fractured and she suffered possible brain damage when the 25-year-old grabbed her hair, king hit her and repeatedly pounded her to the ground.
Aquilina's family apologised to Ms Brown, blaming his violent behaviour on his marijuana and amphetamine addiction.
Supt Jacobsen said investigators had waited in good faith for Ms Brown to speak with them.
''To that extent we have attempted to contact her legal representative today to arrange for her to be present at Liverpool Police Station by 6pm this evening,'' he said.
''If she comes we will give full weight to what she may or may not tell us.''
However, Supt Jacobsen said officers earlier had been told Ms Brown was unavailable until Tuesday; if she did not attend the police station they would take action without her.
''If we are unable to serve it either because she's unavailable or because she has been squirrelled away, we will be seeking leave ... to file that court attendance notice in court,'' he said.
''And if we are granted that leave, then criminal proceedings will commence, it will be subjudice and Today Tonight will publish any material at their peril.''
Supt Jacobsen said that while Ms Brown had a right not to say anything about the incident, police had an obligation to give her an opportunity to speak.
''We have given her that opportunity but she has elected to go to the media (instead), and that's not appropriate.''
In today's Sunday Telegraph article, Ms Brown said she feared for her life but after the attack had no recollection of events.
''I was so scared,'' she told the newspaper.
''I did not know where I was or exactly what had happened to me. All I knew was that blood was pouring into my eyes and my head was throbbing.''
However, she also spoke of her sympathy for her attacker's family, expressing remorse at what occurred.
''I really feel sorry for his family, it must be awful,'' she said.
''I just wish this had never happened. It's been a terrible week.''
Her sister, Katrina Brown, told the newspaper the incident had completely ruined Karen's life.
''She's a complete mental and physical wreck,'' she said.
Reports that Ms Brown had been paid up to $100,000 for the television interview were unconfirmed.
Comment was being sought from Ms Brown's lawyer and Channel Seven.
- AAP
http://www.theage.com.au/articles/2004/08/01/1091298564535.html