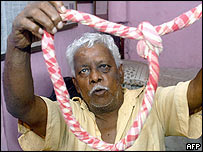 Hangman Nata Mullick reportedly carried out the execution
A man convicted of raping and killing a schoolgirl 14 years ago has been executed in India.
It is the country's first execution since 1995.
Dhananjoy Chatterjee, 39, was hanged at dawn at the Alipore Central Jail in Calcutta where he had spent the last 13 years in solitary confinement.
Chatterjee was convicted of raping and suffocating 16-year-old Hetal Parekh, who lived in the building where he worked as a security guard.
Demonstration
"Dhananjoy Chatterjee was hanged at 0430 (2330 GMT)," Inspector-General of Prisons Joydeb Chakraborty told reporters.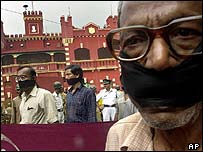 Protesters held a vigil outside the prison

Demonstrators lit candles and held anti-death penalty banners outside the prison but left at the scheduled hour of the execution.

President APJ Abdul Kalam rejected a plea for clemency last week and the Supreme Court rejected another appeal on Thursday.

The execution was carried out by 83-year-old hangman Nata Mullick, assisted by his 21-year-old grandson, Prabhat.

Saturday was Chatterjee's birthday.

Law Minister in the state of West Bengal, Nisith Adhikari, said Chatterjee had asked for Hindu hymns to be played as he was led to his execution.

He also asked for his kidneys and eyes to be donated after his death.

Suicide threat

A large police team has been deployed in Chatterjee's village, where his family had threatened to commit mass suicide if he was executed.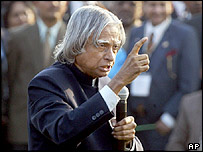 President Kalam turned down the plea for clemency

Earlier they said they would not collect Chatterjee's body for cremation.

"We will not be alive to see him dead," his father Bangshidhar Chatterjee told the BBC.

"We will die before he does."

Chatterjee's lawyers had argued his conviction was based on circumstantial evidence and that DNA testing was not carried out.

Most people in West Bengal support the death penalty in this case.

However, some human rights groups had opposed the hanging.

They had said a life sentence would have been a more appropriate punishment.

The death penalty is rarely carried out in India. It is usually reserved for particularly gruesome or politically sensitive cases.

The assassins of India's independence leader, Mahatma Gandhi, and former prime minister, Indira Gandhi, were among those executed in the past 50 years.