Chief makes arrest after scuffle
Subdues suspect at the CNE
Earlier, he recalled a less violent city


MELISSA GODSOE AND WILLIAM LIN
STAFF REPORTERS

Aug. 23, 2004. 09:15 AM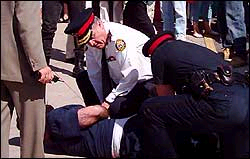 ROB RUSSO PHOTO
Police Chief Julian Fantino arrests a man at the CNE yesterday, shortly after receiving complaints while visiting the grounds.

Only hours after lamenting the loss of a bygone era's peace and quiet, Toronto police Chief Julian Fantino found himself involved in a dust-up while making an arrest at the CNE.

Fantino, who was at the Ex to give a talk on youth violence, was walking with a patrol sergeant near the Horse Palace at about 3:30 p.m. yesterday when someone approached them to complain about a man taking unwanted photos of children.

Fantino confronted the man, said Sergeant Roy Sorgo, of 14 Division, and after a brief struggle subdued the suspect and placed him under arrest.

While it's unusual for the chief to be personally involved in an arrest, Sorgo said, "I think he made the arrest personally because he cares about his duties as an officer. I don't think he's forgotten about that and that's why he didn't pass it off."

Police confiscated two digital cameras containing photos of children, one of them covered in paper and tape to disguise it. A 42-year-old man was charged with mischief, interfering with property and assaulting police. He was held in custody and was to appear in Old City Hall court at 10:30 a.m. today.

Only hours earlier, Fantino was complaining that in days gone by "things were better."

Speaking at a news conference called to announce the arrest of two men in connection with a Toronto stabbing last week, Fantino dismissed arguments that crime is down, saying such talk "doesn't make any sense whatsoever."

"For those of us who have been around for a good long time, we know when things were better," Fantino said. "I can afford to look back and complain, because I have been there and I know the difference.

"And if you ask your parents, they will tell you that as well."

Pattiyage Jayantha Peiris, 48, was stabbed repeatedly Wednesday night outside his establishment, the Jupiter Sports Bar and Grille on Jane St., after he tried to oust some patrons, at least one of whom had been banned, said Inspector Brian Raybould.

On Thursday night, in what police say was a related incident, Ahmed Mohamed Ali, 27, was stabbed and killed in his 14th-floor Roselawn Ave. apartment, apparently after an argument.

Abdi Omar Mohamed, 23, and Mohamed Hassan, 20, both of Toronto, have been charged with second-degree murder. They were arrested Friday night on a Greyhound bus in Thunder Bay, Raybould said, and will appear in a Toronto court today.

Abdi Farah is also charged with second-degree murder in the Jupiter bar case, after he surrendered to police Saturday.

A warrant is still out for Abdimalik Hussein, who is said to be armed and extremely violent.

Police said Mohamed and Hassan are charged in relation to both killings, and that all four charged knew each other personally. All were previously known to law enforcement.

It was uncertain whether the victims knew the assailants.

Known to friends as Smiley, Ali appeared not to have been previously targeted. "It appears at this point ... to be a simple argument or dispute that took place between the people in this apartment," Raybould said.

Fantino said the public can't be comforted by any reduction in crime until it is eliminated. "And as much as we can take some comfort knowing that things are a little better, if you look back historically over many years, things are a lot worse."

Statistics suggest otherwise, according to one University of Toronto criminology professor.

"You were more likely to be murdered in the '70s than today," said Scot Wortley. "The crime rate has remained relatively at the same rate. The chances you are going to be murdered are the same, if not less, than 20 years ago."

In 2003, Toronto's homicide rate was 1.9 out of 100,000. By contrast, the rate in Abbotsford, B.C., was 5.1, Regina 5.1, Saskatoon 3.3 and Vancouver 2.1, Wortley said. A larger population, extensive media coverage and public statements have all contributed to the impression that violence is rising, he said.

Fantino also criticized what he called "bargain-basement justice," with shortened sentences.

"We have discounted justice everywhere, and I think a lot of that has an impact on people not fearing the system. There should be trepidation and fear of consequences. There really isn't that now," he said.