Portrait of anger and abuse
Testimony reveals years of terror in hostage taker's home

`I'll mince you up,' he told wife while opening knife drawer


Aug. 28, 2004. 06:57 AM

SONIA VERMA
STAFF REPORTER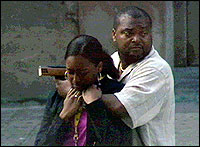 CANADIAN PRESS/CBC NEWS
Tony Brookes holds Nicole Regis hostage at gunpoint outside Union Station Wednesday. A police marksman later shot and killed Brookes, leaving Regis unharmed.



If it were possible to go back in time and glimpse inside the house where Tony Brookes once lived, these are some of the things you would have seen:

Tony, wild-eyed and waiting, wondering where his wife Marlene had gone when she left the house one day last March. Eventually, she returned from the mall clutching a bag of drugstore cosmetics.

Most of the time, Marlene later testified in court, she felt stupid and worthless. When she walked through the door that day, the only thing she felt was fear.

"If you ever do it again, you'll have no feet to walk on," Tony threatened.

"The next time, I will get in a rage. I will hold a knife to you. I will do it, no stopping," he said.

Marlene knew it was not an empty threat. A week earlier he'd done just that.

Brookes was killed by a police sniper Wednesday after trying to kill Marlene and then grabbing a hostage.

The couple's daughter could hear the sound of a kitchen drawer from her bedroom. The noise was soft, but loud enough to sound alarms in the 17-year-old's head.

She followed the noise to the kitchen and found her father pressing a knife against her mother's neck.

"You're not calling the police," Tony said, pulling the phone cords from the wall.

"What are you doing?" his daughter screamed.

He put the knife down.

It wasn't the first time the teenaged girl jumped in for her mom only to find herself tangled up with her father's trigger-quick temper.

Her bedroom door was too thin to muffle the sound of fights on the other side.

Like the time Tony demanded Marlene return to his bed. She had stopped sleeping with him a few months earlier, preferring to curl up with her daughter.

Hearing her mother in distress, the teenager's heart leapt. She opened the door and tried to pull Marlene into her bedroom away from Tony.

"Before you call the police, I'll mince you up," Tony said before running to the kitchen.

His daughter locked herself in the bathroom. She heard the knife drawer open again.

That time, it was her younger brother who jumped in for her.

Those weren't the only scenarios involving abuse that happened in the house where Tony Brookes once lived — perhaps not even the worst.

The pattern of abuse stretched back to the day Marlene and Tony married 18 years ago.

But these particular assaults — all during the first two weeks of March — convinced Marlene to finally press charges.

They were the ones that landed him in an Oshawa courtroom on May 4 of this year, facing one count of assault, two counts of assault with a weapon and two counts of threatening death.

Those proceedings are detailed in a 30-page transcript of those proceedings in the Ontario Court of Justice, obtained by the Star yesterday, which include victim-impact statements made by both Marlene and her daughter, who is now 18.

When Brookes read those statements, he started to cry.

"My husband is very controlling. He makes me feel very afraid, like I had to listen," Marlene's statement said. "If I didn't listen, he would hit me, or threaten me. When he hit me, I felt he didn't love me, but I was in love with him," it continued.

His daughter's statement echoed Marlene's feelings. "When growing up, I have always been exposed to abuse," she said, recalling how she witnessed the first incident at the age of four.

"As I was growing up, I've always felt that my family has been physically and mentally abused ... I always felt sorry for my mom for all the pain and stress she had to go through because she didn't deserve it.

"However, my father and I never really had a good relationship. The reason I feel that we did not have a good relationship is because he never really gave me the chance. I felt like at times he forgot that I am his daughter."

But even before Justice Hubert Campbell called his courtroom to order on that May morning, Tony Brookes knew what he would do. He pleaded guilty to every count, avoiding a potentially lengthy trial.

In defending Brookes, lawyer Dan Barna painted a portrait of a man struggling to juggle several minimum-wage jobs to make ends meet. A man who believed his household had "degenerated" and he was unable to cope.

He complained of his unruly children and a "rocky marriage."

"He admits that the way he handled things, he lost control," Barna told the court.

Barna argued that the "shock of going to jail" would be enough to deter him from abusing his wife or children in the future.

"As I've said, he's going to have to start again. It looks like he's going to have to get out, and I don't think, or submit, he won't have a problem."

And so when talk turned to Tony Brookes' punishment, the crown, by its own admission, could have asked for a harsher one. "The option was there, obviously, to proceed by indictment and make Mr. Brookes a project, and pursue all the wrongdoings over the 20-year-period. The crown has opted not to do that," prosecutor Michael Newell told the court.

Instead, Newell sought a two-year period of probation, counselling and assessment, a restraining order, weapons prohibition and a relatively short jail sentence of 30 days.

That's because, more than anything, Marlene and her children were desperate to bring this painful chapter of their lives to a close. They wanted to "set out on a new path," to be "free of the court system" without this "hanging over their heads."

Because at the end of the day, Marlene and her children believed forgiveness was the only path to freedom, the only way they could ultimately win.

This is perhaps the most surprising part of their testimony — their capacity to forgive the man who terrorized them for so long.

Once they feared him. On that day, they felt sorry for him.

"I am glad I am out. Now I am not afraid of him. Now I can move on. Now I know who I am and I can love myself and my children," said Marlene in a statement she read to the court.

She had learned to no longer feel ashamed of herself. She had take pride in her appearance and feel good about herself.

"When I saw him this morning in this courtroom, I felt sorry for him, because whenever I used to say he needed help, he would always say that I was the one who needed help.

"Today I realized that he needs a lot of help," she said.

Marlene Brookes is likely to remain in St. Michael's Hospital over the weekend as doctors treat her head injury.

But the most haunting words in the transcript come from Justice Campbell:

"No punishment that I can mete out today will be as severe as the punishment, sir, that you will endure if you don't make every effort from here on in to get the counselling you need, to develop the understanding of the needs of others ..."