Father failed by justice
The Sun
Wednesday, September 1, 2004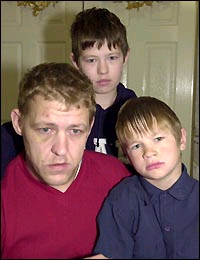 Tragic ... Paul after the attack with sons Ashley, front, and Simon
By ROBIN PERRIE
20040901_father_failed_by_justice
A BRAVE dad beaten up by drug dealers in front of his children killed himself after charges against the accused men were dropped.

Paul Wardell, 32, was humiliated by the thought that he could not protect his kids.

He had waged a one-man war on the dealers on his estate — but they took their horrific revenge by beating him unconscious as sons Simon, 10, and Ashley, eight, looked on.

He thought he would finally get some justice when three of the youths were charged. But the case against them was dropped — and Paul later hanged himself.

His mum June, 65, said: "He was let down by the law. These thugs ruined his life. They took his self-respect, the most important thing he had. He felt the attack was something his sons should not have seen.

"And he was gutted by the fact that they just got away with it."

A verdict of suicide was recorded yesterday by Middlesbrough assistant deputy coroner Anthony Eastwood — who said the attack in front of his sons was a significant factor in Paul's death.



Sister ... Karen
Paul challenged the dealers who plagued his estate in Thornaby, Teesside, and identified them to police.
In November 2002 he was with Simon, Ashley, and his sister Karen, 35, when youths armed with baseball bats and martial arts fighting sticks attacked him.

While he was being treated in hospital for a fractured skull his council house was looted and police advised him to move out.

Paul, who was separated from wife Mary, 29, was given a place in a hostel for about a year and saw less of his three children. He became depressed but his one hope was seeing his attackers convicted.

But just three days before they were due in court the Crown Prosecution Service dropped the case because of a lack of evidence.

Lawyers felt they would not be able to secure a conviction because Karen had been unable to identify any of the attackers despite witnessing the assault.

She said: "I was hysterical because it was so horrific. It was traumatic and my brother couldn't handle things. He felt he couldn't protect his children. But what made it worse was he felt let down by the law."

Paul, who had a daughter Robin, four, hanged himself at home in January — on Ashley's tenth birthday.

A CPS spokesman said: "The evidence didn't pass the evidential test in the code for crown prosecutors."