By NICK PARKER
A BOBBY who has won £2.2million on Lotto told yesterday how he dumped his wife for a childhood sweetheart he met again through Friends Reunited.
PC Tony Stubley, 39, will share his fortune with pretty lover Julie Wells, who he tracked down on the website.
But he stayed schtum about how much will go to his estranged missus Ruth.
She could cost him a million if she lays claim to half his pot when they divorce.
Council worker Julie, 39, was with punk fan Tony yesterday when he picked up his cheque from his favourite band The Stranglers.
The pair moved in together in April — 24 years after they had a three-month romance when they were 15-year-old school chums.
They lost contact after Julie switched schools. And Tony went on to wed Ruth, with whom he has a son, nine-year-old Greg.
But last year Tony sent Julie an email after finding her name on the website. They met secretly — and romance blossomed again.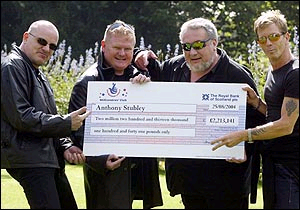 Fans a lot ... Stranglers present cheque
Yesterday the jubilant bobby, who won a quarter share of last Wednesday's £8.85million rollover jackpot, said: "I always felt Julie was the love of my life.
"She was always on my mind and the minute we saw each other the sparks were back again."
Mum-of-two Julie, who left her husband Stuart for Tony, said: "After we met both our partners knew straight away we'd seen each other. Our body language gave it away. I never forgot Tony."
The PC, based at Peckham nick in South East London, is now planning to wed Julie — mum of Samantha, 19, and Michael, 15.
Asked if he would give any cash to Ruth, he replied: "That's being worked out now so I can't comment. But you can be sure she and Greg will be set up for life."
Pharmacy worker Ruth, of Bexleyheath, Kent, was away on holiday yesterday.
Tony and Julie, who live in Chatham, Kent, also pledged some of the winnings to Stuart.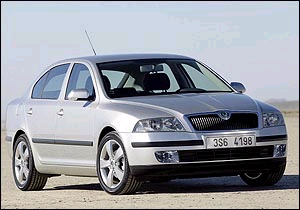 Big spender ... Tony wants a new Skoda
And the understanding ex was at the presentation in London.
Tony has been off sick for a year after injuring his back while running a coconut shy at a fete.
And the bobby, who lodged winning numbers 10, 12, 13, 19, 31 and 46 online, said he will take at least another five years off before deciding whether to stay a cop.
But he will give himself one immediate treat — a new SKODA. He will swap his old Felicia for an Octavia.

He said: "A car's main purpose is to get from A to B. I've found Skodas very reliable."