Court system near collapse, warn judges
By Fergus Shiel, Ian Munro
September 3, 2004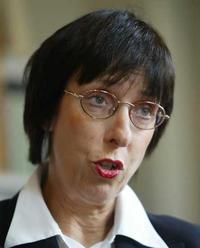 Chief Justice Marilyn Warren
Picture:Andrew de la Rue
Victoria's top judges warned yesterday that the state's court system would reach breaking point without increased government funding.
In an extraordinary statement, Chief Justice Marilyn Warren, backed by the heads of the County, Magistrates and Children's courts and the state's civil tribunal, accused the Bracks Government of neglecting the courts and not fully recognising their critical role.
Justice Warren said the courts so far had succeeded in overcoming inadequate resourcing and confusing administrative arrangements but the situation could not be allowed to continue. "It cannot be sustained indefinitely," she said, as the judges released a 130-page Court Strategic Directions Statement to Attorney-General Rob Hulls.
"We want to ensure we have the capacity to serve the community and meet the demands placed on a modern court system," Justice Warren said. "But ultimately we cannot do this without adequate resources and support from the Executive and the Parliament."
The judges' statement was welcomed by the Law Institute and the Criminal Bar Association.
Mr Hulls said last night that he had initiated the report as part of the Government's long-term vision for justice, but he did not promise immediate action.
The report calls for a new mechanism to put decisions about judges' pay rises out of the hands of the Government and to reform the appointment of judges and tribunal members.
It says that before any new laws are passed to create new offences, Parliament should be told of the effect they would have on court resources.
It also calls for an investigation of the law where it has become complex and uncertain, resulting in longer trials, citing areas such as workers compensation, town planning, corporations, consumer protection, criminal and evidence law as needing clarification.
Welcoming the statement, Law Institute president Chris Dale said: "It is a discussion we have to have... I think she (Justice Warren) is saying that we can only keep going so far. In the end the system will break down and, if it does, what does that say about the administration of justice in Victoria?"
Criminal Bar Association head Lex Lasry, QC, said the Supreme Court was unprepared for the pressure of a series of complex and long-running, imminent police corruption cases.
The judges called for a sweeping overhaul of the administration, operation and financing of the judicial system. Justice Warren said the courts had managed to perform at a high level and undertake significant innovation, but this had been made possible only by the commitment and effort of those involved.