Playing to millions but playing dad better
By Rachel Browne
September 4, 2005
The Sun-Herald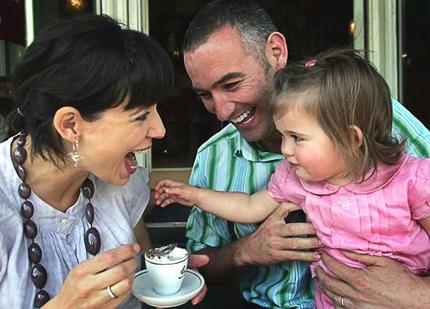 Wiggly wooing ... Anthony Field with wife Mikaela and daughter Lucia.
Photo: Danielle Smith
Father's Day came early for blue Wiggle Anthony Field, who has been reunited with 18-month-old daughter Lucia and wife Mikaela after a long US tour.
The Wiggles have spent the past six weeks on the road in America, where they are hailed as the new fab four for the under-fives.
But despite his rock star status, Field, 42, loves nothing more than getting home, peeling off his trademark skivvy and simply playing dad.
"The biggest thrill for me is being at home - it's the best Father's Day present I could ask for," he said.
"We're away so much I treasure every moment I have at home with Mikki and Lucia. Every day is Father's Day."
Father's Day has more significance for Anthony and Mikki than most as they were unsure whether they would be able to have a child.
Mrs Field suffered from the painful condition endometriosis, which is estimated to affect up to 10 per cent of women and causes up to half of female infertility.
But their miracle baby Lucia was born in February last year and now the couple are expecting their second child, another girl, in four weeks.
"We didn't even think we'd be able to have one baby, so to have a second one on the way is such a blessing," he said.
Field and his fellow Wiggles, Greg Page, Murray Cook and Jeff Fatt, will head to the Gold Coast this week for Saturday's opening of Wiggles World at the theme park, Dreamworld.
But after that he will be back in Sydney to await the birth of his second baby before returning to the US for another tour in November.
As well as keeping his daughter entertained with songs and games when home, the qualified early childhood educator also engages in the less-pleasant tasks such as nappy changing and administering eye drops for occasional bouts of conjunctivitis.
Field's experience bears out the results of a recent survey by Australia's biggest child-care resource, careforkids.com.au, which found that fathers are not only spending more time with their children but are also playing a bigger role in child rearing.
The study of 800 parents found that 80 per cent of fathers spent more than five hours a day with their children on weekends and during the week almost 50 per cent spent three hours a day with them.
613-797-3237