A CAMPAIGNER for the Fathers 4 Justice organisation today breached security by protesting from a balcony at Buckingham Palace - dressed as BATMAN.

Jason Hatch, 33, from Gloucester, managed to reach the royal residence despite the presence of armed guards, the group said.

Matt O'Connor, spokesman for the organisation which supports fathers' rights, said: "We've got a guy dressed as Batman who's on Buckingham Palace on a balcony.

"He legged it past the armed guards."

Two other intruders ran off after helping the demonstrator penetrate the Palace grounds.

Police said the men were detected by security cameras as they used ladders to scale Palace railings on Constitution Hill.

A policeman on the balcony to the left of the protester appeared to be talking to him.

Another two men stood on the balcony talking into mobile phones.

Police cordoned off the area immediately in front of the palace and a crowd gathered to watch on the Queen Victoria Memorial.

A passer-by said she had seen the man climb up the building at the far right end of the palace and make his way across the front of the building.

At one point he unfurled the banner in front of a window and someone inside tried to rip it down before he moved on to his current position.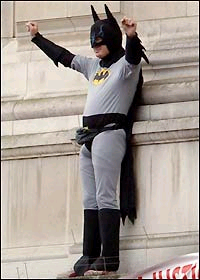 THWACK ... determined to stay
Today's incident came during the summer opening of the palace to the public.
Former royal press officer Dickie Arbiter said officials in charge of security at the palace "are going to have to go back to the drawing board".
Royal security was reviewed after a reporter was able to get a job at Buckingham Palace as a servant before President Bush stayed there during a state visit in November last year.
Stand-up comedian Aaron Barschak also highlighted lax security by gate-crashing Prince William's 21st birthday party at Windsor in June last year.
Fathers 4 Justice are notorious for their high profile publicity stunts and recently highlighted lax security at the House of Commons.
On Saturday, David Chick brought the London Eye to a standstill by climbing to the top while dressed as Spider-Man.
He was arrested after agreeing to come down, Scotland Yard said.
Chick, who staged a six-day crane-top vigil dressed as Spider-Man at London's Tower Bridge last year, was protesting at being denied access to his daughter.
The case of two protesters who hurled condoms filled with purple flour at Prime Minister Tony Blair was being dealt with today at a magistrates in London.
That protest halted Prime Minister's Questions and sparked fears that the chamber was under biological attack.
Bow Street Magistrates' Court was told that Guy Harrison, 36, of Ashurst, Sussex, had won a VIP ticket to the Commons from Baroness Golding at a charity raffle.
After he and friend Patrick Ronald Davis, 48, spent the morning with the peer she showed them to a place in the guests' gallery, which is not protected with a security screen.
Davis, who denies a charge of disorderly behaviour, is alleged to have blocked the path of a doorkeeper and unfurled a banner as the protest took place.
Harrison, who admitted the same offence, was fined £600 for his actions in May.