Palace protester freed
By Robert Jobson And Justin Davenport, Evening Standard and PA
14 September 2004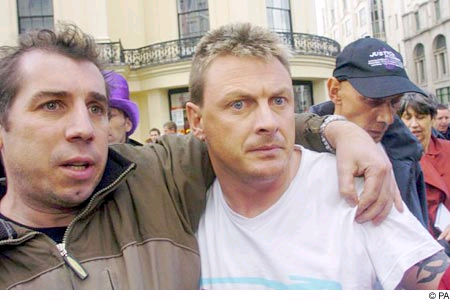 Jason Hatch leaving custody
Fathers 4 Justice protester Jason Hatch who staged a protest on a ledge at Buckingham Palace while dressed as Batman was released on police bail today.
The 32-year-old was arrested on suspicion of criminal damage and has been ordered to return to a central London police station in December.
Hatch is unlikely to face charges for the protest, with sources saying there is little evidence he committed any serious damage to the building.
One said: "There isn't actually an offence for breaking into a royal palace and the only thing he seems to have damaged is some pigeon netting."
Senior officers are likely to conclude that a court case would serve no public purpose and merely add to the massive publicity achieved by the stunt.
The Queen has expressed her "irritation" to senior courtiers after watching on television as the protest unfolded on the balcony of Buckingham Palace. She has reportedly demanded decisive action.
The Queen will receive an urgent report into the stunt - the fourth occasion that security has been breached at royal properties in less than two years.
And sources say high-level resignations are almost inevitable.
"There is a sense of astonishment that this has happened again. Someone has to be responsible and the buck stops at the top," said a senior palace source.
Today, as Sir John Stevens, the Metropolitan Police Commissioner, examines the initial report into the fiasco which the Queen - who is at Balmoral - will also read, the head of royalty protection is poised to be the first victim.
Palace sources said last night that Peter Loughborough, the £93,000-ayear officer - an Eton-educated aristocrat who is popular with the royals - is "unlikely to survive the scandal". Commander Loughborough was handed the job partly because he is deemed to have the social skills to move in royal circles.
He has risen quickly to the top, though some say he was keen to move on in the wake of the Windsor Castle fiasco when comedian Aaron Barschak gate-crashed Prince William's 21st birthday party in June 2003 dressed as Osama bin Laden.
He is likely to be moved to other duties, though it may not happen immediately.
Commander Loughborough has responsibility for both the Royalty and Diplomatic Protection Groups.
The Royalty Protection Department is made up of more than 400 officers, each vetted and recommended for the job.
One of his predecessors, Commander Michael Trestrail, lost his job after Michael Fagan broke into Buckingham Palace in 1982.
Other senior figures will face crucial questions into the latest security lapse.
They include Jeffrey Cook, 49, a former special forces officer, who took up the post of security co-ordinator after the Windsor Castle security breakdown.
Insiders questioned the relevance of the former Army officer's role.
Others in the firing line include Commander Loughborough's superiors - Deputy Assistant Commissioner Suzannah Becks, who is in charge of Security and Protection and Assistant Commissioner David Veness, who is in overall charge of security and the fight against terrorism.
Yesterday Commander Loughborough insisted that the Palace security mechanism had done its job, saying: "The system worked. The response was prompt and the individual didn't get into the building."
Officers had used their common sense to deal with the situation and their response would have been "more robust" if it had been a more serious problem.
Sir John Stevens ordered an urgent review immediately after yesterday's incident and said he expected the report to be on his desk first thing this morning.
Privately, senior officers accept it was an unacceptable breach of security that the perimeter wall or fence surrounding the Palace was scaled so easily. Sir John said publicly yesterday that if Hatch had been carrying a bomb or a gun he would have been shot by armed police.
Last night Home Secretary David Blunkett defended police handling of the situation, insisting the police had taken the "entirely correct decision" in identifying Hatch as a protester and not a terrorist. But Mr Blunkett told MPs the speed with which Hatch was able to scale the perimeter was of " concern".
Fathers 4 Justice protester Hatch, dressed as Batman, climbed over one of the palace walls and stood precariously on a ledge for six hours.
He was aided in his stunt to promote awareness of fathers' right by Dave Pyke who was dressed as Batman's sidekick Robin. Mr Pyke was also bailed after he was questioned over aiding and abetting a criminal act.
Related stories
• Ranting, bragging he plotted stunt
• Gallery: How Batman broke into the palace