Appeals hearing set for Harris
Ex-dentist seeks the overturning of 20-year sentence for killing husband
By RUTH RENDON
Copyright 2004 Houston Chronicle
Sept. 15, 2004, 1:09AM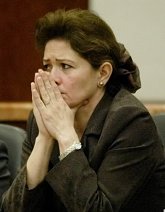 The First Court of Appeals has set an Oct. 6 hearing to consider an appeal from Clara Harris, who was convicted of murder for running over her husband in a hotel parking lot after finding him with his mistress.

Attorneys for Harris, who is seeking to get her 20-year sentence overturned, had argued in a 96-page brief filed in November that State District Judge Carol Davies erred in barring jurors from seeing re-creation videos that would have helped prove that David Harris death was an accident.

Expert witness Steve Irwin created two videos from the July 24, 2002, incident in the parking lot of the Nassau Bay Hilton Hotel.

He asserted that Clara Harris did not strike her husband with her Mercedes-Benz in a way that caused his body to be thrown across the hotel parking lot. Instead, David Harris was hit, carried on the hood of the car, rolled off and run over once, Irwin contended.

Witnesses, however, testified that David Harris, a Clear Lake-area orthodontist, was run over several times. One of those witnesses was Lindsey Harris, David Harris' teenage daughter from a previous marriage, who was in the front seat of the car.

Houston attorneys George Secrest and Ken McLean, who are representing Harris, gave seven reasons in their lengthy brief why Harris' conviction should be overturned.

A jury convicted Harris, 46, a Friendswood dentist, of murder in February 2003. She is serving time at the Mountain View unit in Gatesville.