pics mission

Group's spy
pics mission

Thursday, September 16, 2004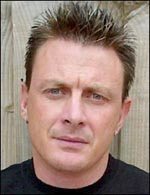 Help ... Jason Hatch
A SPY from Fathers 4 Justice took illegal photos inside Buckingham Palace before the Batman stunt.
Member Ray Barry, 54, smuggled a credit card-sized camera on an official tour even though photography is banned.
He took dozens of snaps of balconies and windows, capturing entry and escape points.
His pictures were passed to Batman Jason Hatch, enabling him to climb to the balcony.
Ray, of Wolverhampton, said: "We're not the SAS but we got into one of the most secure places on earth."
Met Commissioner Sir John Stevens wants trespass on royal premises made a criminal act rather than a civil offence as at present.