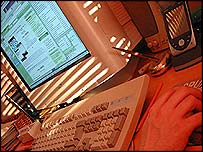 The crackdown is part of a worldwide investigation
The Australian authorities say four men investigated during the country's biggest police operation against child pornography have committed suicide.
One of them was a police officer who had been charged with possessing child abuse computer games.
Since it began on Thursday, Operation Auxin has seen more than 200 arrests in raids on more than 400 premises.
It follows an investigation in the US that uncovered international paedophile networks trading images online.
More than a million images have been seized across Australia during the operation.
Detectives said some of the material involved children as young as two years old.
The dead police officer was from Queensland state. One of the suicides took place in Western Australia, with the other two - one a prisoner officer - taking place in Victoria state.
'Regrettable'
Justice Minister Chris Ellison said more arrests were expected this week and up to 500 people could be charged with offences.
"It's regrettable that four people, the subject of charges, have taken their own lives," he told reporters.
"But this investigation is an extremely important one dealing with criminal activity which deals with the violation of innocent children.
"This will not deter, in any way, the investigation."
Some of those charged have already been appearing in court, including a 33-year-old married schoolteacher in Sydney charged with 22 child pornography offences.
The teacher, whose name has not been disclosed, is accused of a variety of offences including setting up a video camera behind a school changing room mirror to film children.
Meanwhile 11 other men - including at least two teachers - are facing charges in Perth connected with internet pornography.
Three childcare centres in Victoria have been placed in the hands of an administrator, because their owner faces pornography charges.
Download details
The Australian crackdown is part of a worldwide investigation, spearheaded by the US customs service and also involving Interpol.
The investigation started last year as a result of US intelligence based on information from a network of internet sites in Russia and eastern Europe.
Kyle Hutchins, the special agent in charge of the US investigation, said he was able to give names of suspected offenders to Australian officials, as well as "locations, credit card information and then what exactly these people actually downloaded''.
Australian Prime Minister John Howard has promised new legislation, if needed, to fight child pornography on the internet.