MOTHERHOOD CUT SHORT
October 2, 2004
CNN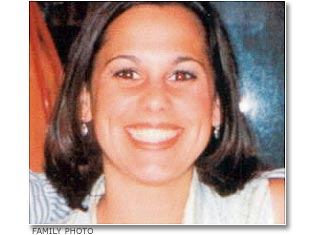 Laci Peterson was less than two months away from her due date in the birth of her first child when she vanished on Dec. 24, 2002. Her husband, Scott Peterson, told police he spent the day fishing in the San Francisco Bay before he came home to find his wife gone.
But in April 2003, the remains of Laci and her unborn child — a son she planned to name Conner — were found on the shores of the same bay, and Scott Peterson was charged with their murders.
The 31-year-old murder defendant faces capital punishment if convicted at his double-murder trial, which began in May 2004 and is expected to last six months.
Long before the highly-publicized murder case, there were other pregnant women who met with the same fate as Laci Peterson — women looking forward to motherhood, but whose lives were cut short.
Lori Kay Hacking was five weeks' pregnant when she went missing on July 19, 2004 in Salt Lake City. According to her husband, Mark, she arose at about 5:30 a.m., drove to a local park where she liked to jog, and never came home.
Police arrested Mark Hacking after he allegedly confessed to his brother that he shot his wife as she slept and put the body in a trash bin. The couple was preparing to move to Chapel Hill., N.C., where Mark told family and friends he had been accepted to medical school. Police believe three days before she vanished, Lori Hacking discovered that her husband never even graduated from college or applied to medical school, and confronted him about his deceptions.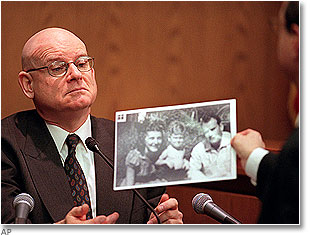 Marilyn Sheppard was pregnant when she was violently bludgeoned to death in her family's Cleveland home. The tragedy was only compounded, however, when her husband, Dr. Sam Sheppard, was convicted in 1954 of the gruesome crime, despite scant evidence and his repeated claims of innocence.
Twelve years later, the U.S. Supreme Court found that Sheppard's first trial was marred by grave prosecutorial errors and granted him a new trial. He was found not guilty the second time around. But by that time, the once-renowned neurosurgeon had spiraled into alcohol abuse and depression and died of liver failure in 1970.
Sam Reese Sheppard, pictured with a family photo, testified in civil proceedings to clear his father's name, but despite DNA and forensic evidence implicating the family handyman, he was denied a declaration of wrongful incarceration for his father.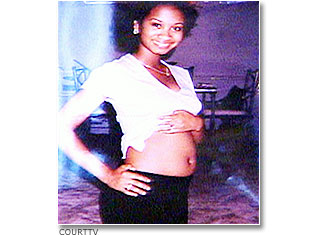 Former NFL player Rae Carruth went to the movies on Nov. 15, 1999 with girlfriend Cherica Adams, who was pregnant with his child. But as the two drove home in separate cars, Adams was shot by a drive-by shooter, and later died from the injuries she sustained. Her baby, however, survived the attack.
Prosecutors contended Carruth set up the 24-year-old's shooting death to avoid child support payments, a theory jurors believed. They convicted Carruth of conspiracy to commit murder, shooting into an occupied vehicle and using an instrument to destroy an unborn child, for which he is currently serving 19 to 24 years in prison. He was acquitted of capital murder and thus avoided the death penalty.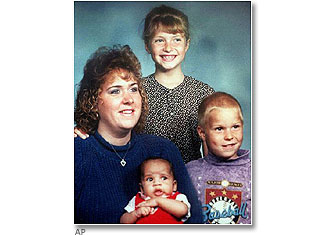 Deborah Evans (left) was pregnant with ex-boyfriend Levern Ward's child when on Nov. 19, 1995, he broke into her Addison, Ill., home with his cousin and his cousin's boyfriend. The three stabbed and shot Evans before removing the fetus from her womb, allegedly to procure the baby for Ward's cousin, who could not have her own children. They also stabbed to death Evans' children Samantha, 10, (top) and Joshua, 8 (right). Ward's and Evans' 17-month-old son, Jordan (bottom), survived the bloodbath, as did the newborn, Elijah, after being ripped from his mother's womb.
Ward and his cousin, Jacqueline Annette Williams, are serving life terms after their death sentences were commuted by former Gov. George Ryan in 2003. Williams' boyfriend, Fedell Caffey, received a life sentence.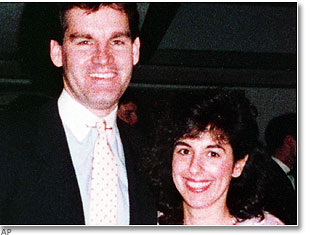 On Oct. 23, 1989, Charles Stuart called police to report a black man with a raspy voice had shot his pregnant wife, Carol, in the head. The affluent white couple was driving through a rough part of Boston after a childbirth class. Stuart's claim touched off a racially-charged manhunt that sparked numerous accusations of racial profiling and wrongful detentions.
In a shocking turn three months later, Stuart's 23-year-old brother, Matt, confessed he had helped his brother plan the shooting in an insurance fraud scam. When news got out that police had a warrant for Stuart's arrest, the salesman jumped off a bridge and plunged to his death.