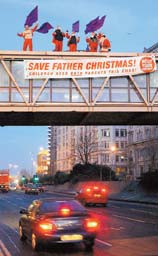 FIVE campaigners for fathers' rights were today acquitted of causing a public nuisance when they staged a protest dressed as Santa Claus above a busy Liverpool city centre road.
A Liverpool crown court jury unanimously found them not guilty of the offence in The Strand last December.
David Humphrey, 30, Manor Road, Crosby, Stuart Fisher, 38, Dingle Lane, Dingle, Gary Newell, 44, Appleyard Lane, Chester, Graham Wilson, 45, Grosvenor Road, Wallasey and Peter Molloy, 33, Hartsbourne Avenue, Childwall, denied the charge.
Speaking after the case, Fathers' for Justice member Peter Molloy said: "I am over the moon at the verdict. There was only ever one verdict and that was not guilty for all of us.
"The whole trial was a farce - we never intended to cause the road to be closed when we went on the footbridge. The police caused the public nuisance and they prolonged it by their absence."
The five F4J members climbed on the roof of the walkway over The Strand at 6am.
They were dressed in Santa suits and erected a banner publicising their cause to demand equal rights for parents over access and custody issues in the event of them splitting up.
At 8am, Inspector Andrew Cheshire ordered the Strand to be closed. As a result, thousands of motorists were delayed for hours getting into the the city during the week before Christmas.
The men told the court they were carrying out a lawful protest and had never aimed for the road to be closed.
David Humphrey said members of his family were stuck in a traffic jam.
After speaking to police from the bridge, he and Mr Fisher came down from the roof at 9.30am and the others followed two hours later.
When the verdicts were announced, a number of F4J supporters applauded and the judge turned to them and told them they were a disgrace for such behaviour in a courtroom.
sarahchapman@liverpoolecho.co.uk