Two new justices join court

By DENNIS BUECKERT

C NEWS
October 4, 2004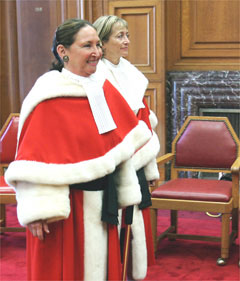 Newly sworn in Supreme Court Judge Rosalie Silberman Abella (left) leaves the offical photo-op with fellow judge Marie Deschamps. (CP/Jonathan Hayward)
OTTAWA (CP) - Rosie Abella, whose brother died in a concentration camp and whose father could not practise law when he came to Canada because he was Jewish, came near tears Monday as she was sworn in as a justice of the Supreme Court of Canada.
"One of the psychological legacies of having a holocaust background like mine is that you take nothing and no one for granted," Abella said, her voice faltering. Abella, 58, said her parents never dwelt on what it felt like when their two-year-old son was killed at Treblinka.
"They never cried, I always did. I never understood how they found the strength not to cry."
She said her appointment was a tribute to the optimism of her parents and their confidence in Canada.
"In one generation, a journey that started in a displaced persons camp in Germany ended in the Supreme Court of Canada. I am so proud to be a Canadian."
The appointments of Abella and Louise Charron, bring the Supreme Court to full strength - nine members - for a busy fall sitting that begins with a landmark hearing on same-sex marriage.
Charron, 54, also struck a note of patriotic gratitude: "It is a privilege of living in a peaceful and free country. Unfortunately, we don't have to do more than read newspapers on just about any day to realize how fortunate we are.
"The raison d'etre for this ceremony is not about the individuals themselves but about the values of the Supreme Court."
Prior to their appointments to the Supreme Court, both women served on the Ontario Court of Appeal, Abella since 1992 and Charron since 1995.
Outside the courthouse, about 25 demonstrators carried signs accusing the new justices of a history of biased judgments.
"We object to (Justice) Abella particularly because she has a history of biased judgments against men, against fathers and against shared parenting," said Glenn Sheraton, executive director of Fathercraft Canada.
Aidan Reid, a spokesman for Campaign Life, said the government was "fixing" the court to push its agenda on gay rights and other issues.
Reid said he has no problems with social activists but they should work in Parliament, not in the Supreme Court.
Abella had no apologies for the activist role that courts have played in recent decades. She said Canadian law has gone through a revolutionary change since she was a student.
"Legislatures across the country, encouraged by a public newly sensitized the previous decade to the inhibiting power of tradition, shone roving flashlights across our social landscapes.
"They exposed the inequities, both created and hidden by the law's Pavlovian obedience to the neutrality of its own indifference and responded with a seismic reformulation of what constitutes the Canadian mainstream and who gets to join it."
There are now five men and four women on the court.
Abella was sole commissioner and author of the 1984 federal Royal Commission on Equality in Employment, in which she created the term and concept of "employment equity."
She has written over 70 articles and written or co-edited four books on a variety of legal topics.