'It's a miracle'
October 6, 2004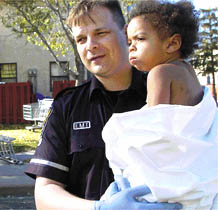 - Walter Tychnowicz, SUN
Neighbours watched in horror yesterday as fire ripped through a Mill Woods home with a two-year-old boy trapped in an upstairs bedroom. "The baby was banging on the window, just stuck to the window. The mother was just hysterical," said Jody Laycock, one of several neighbours who scrambled to help after someone saw smoke coming from the second floor of the townhouse near 58 Street and 34 Avenue just after 2:30 p.m.
The child's mother, Vanessa St. Louis, and her two other kids escaped the home, but her youngest son, two-year-old Daniel, was left behind.
Two men from the subsidized housing complex tried to get the child and fight the blaze with a garden hose, but they were pushed back by heavy black smoke, Laycock said.
Firefighters Chris Camarta and Joe McEwen used a ladder minutes later to rescue Daniel through the bedroom window.
Crews had the blaze under control just 13 minutes after it was reported, said fire department spokesman Karen Carlson.
"It's a miracle from God. He protected my kids today," St. Louis told reporters at the scene.
Fire investigators pegged damage to the townhouse and its contents at about $25,000.
Carlson said the blaze appears to have been started by children playing with fire.
The little boy was inside a bedroom with the door closed - and that probably gave him an extra 15 minutes of breathable air, Carlson noted.
"That's a good safety message for people, especially since it's Fire Prevention Week."
Laycock said she and some of her neighbours want the Capital Region, which runs the townhouse complex, to install fire ladders so residents can escape quickly.
She said this is the second time St. Louis' unit has been hit by fire this year, though there were different tenants living there last time.
"A lot of good our smoke detectors do us if we can't get down the stairs. The only option we have is to jump from the second storey," she said.
Crews were still at the scene when they were called to another southside townhouse just before 4 p.m. Fire broke out in an upstairs bedroom of the unit near 34 Avenue and Mill Woods Road and most of the damage was confined to one room.