In the wilderness with boys-only kindergarten
By Matthew Thompson
October 16, 2004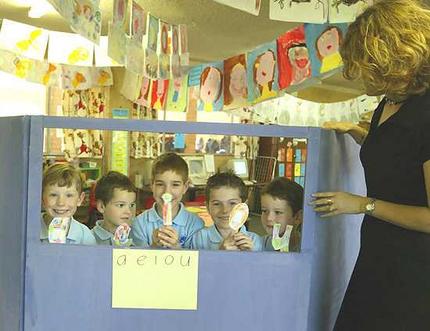 "Then Mr A told Mr E, 'IOU"' ... St Finbar's kindergarten boys put on a show in their boys-only class, encouraged by their teacher Leesa Gillard.
Photo: Peter Rae
A primary school swamped by a rumbling mob of miniature men is singing the praises of gender-targeted teaching.
A teacher at St Finbar's of Glenbrook, Leesa Gillard, said that the school's all-boy kindergarten class and the teaching innovations that followed - including shooting baskets to learn letters - were forced by an enrolment of 28 boys and only 12 girls.
"It was either put six girls in each class or try this," said Ms Gillard, who takes the 20-strong all-boy kindergarten class. The more boisterous lads were picked for the class, and the other eight placed with the girls.
Ms Gillard said as the school searched for research on how best to teach kindergarten-age boys, she realised "we're sort of out in the wilderness".
"The hardest thing for us is that there's a lot of research [on gender and teaching] in older years, but there's none at this age."
Ms Gillard said in boys this age there was plenty of "talking with their hands". "Boys tend to run around going 'give it to me'-punch-punch-punch."
To appeal to their love of the physical, St Finbar's developed kinetic learning activities, such as having pupils shoot a basket for each associated letter, sound and word they can remember.
The principal, Sue Guilfoyle, said much had been learnt from the innovations - which would still be used in 2005 when the kindergarten enrolment was expected to be less lopsided.
Other Catholic schools are separating boys even without a gender imbalance.
The principal of St Gertrude's at Smithfield, Sharyn Dickerson, said boys and girls had separate literacy classes in year 3.
Boys often preferred different books to girls, and when taught en bloc, more attention could be paid to "teaching them about listening, about completing things on time, [and] about respecting each other," she said.
However, the research director of learning processes and contexts at the Australian Council for Educational Research, Ken Rowe, dismissed the issue of separate classes as a "red herring".
Of the factors that schools could control, the main determinant of whether a pupil - of either gender - did well was the "quality of teaching and learning", Dr Rowe said.
The idea that splitting the sexes improved marks was based on "anecdotal claptrap" and was "easier" than ensuring the teachers were top rate, he said.
When people pointed to the achievements of private single-sex schools, they forgot the effect of performance-based pay, more liberal hiring and firing policies, and a keen parent interest in their child's education, he said.