Groping cop's fate in limbo

JUDGE TO DECIDE IF IT'S SLAP ON WRIST OR CRIMINAL RECORD

By CHRIS DOUCETTE, TORONTO SUN
Wed, October 27, 2004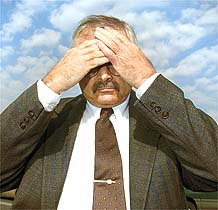 Const. Gord Hornett tries to hide his face as he leaves court yesterday. -- Greg Henkenhaf, SUN
A VETERAN Toronto cop who groped the wife of a fellow officer in their police station was in a Scarborough court for sentencing yesterday. But Const. Gord Hornett, 58, will have to wait at least three more weeks to find out if he'll be retiring in the spring without a criminal record or going to jail for sexually assaulting the woman, who was 27 when the incident occurred 2 1/2 years ago.
'NOT AN EASY DECISION'
"This is not an easy decision and it's not one I'm prepared to make sitting here," Judge Faith Finnestad said yesterday, explaining that while jail time would send a strong message to others, she didn't want to rush her decision.
Hornett admits he fondled the woman's breast in an agreed statement of facts and has pleaded guilty to sexual assault.
Defence lawyer Gary Clewley is asking for a discharge, which would allow Hornett to wrap up his 34-year career in June and retire to Florida with a woman.
ADDITIONAL COUNSELLING
Clewley suggested his client be prohibited from contacting the victim, or her husband, and seek additional counselling.
He also said Hornett could request a transfer out of 42 Division, where he remains on active duty behind the station's front desk.
"He reached inside her dress and touched her breast for a second ... It's a bit of a wacky thing to do," Clewley said outside court. "The guy's got some psychological problems."
Crown attorney Ian Bulmer shot down the idea of a discharge and asked the judge for a nominal jail sentence -- possibly one day -- and probation, which would mean a criminal record that would effectively end Hornett's career.
The victim, who cannot be identified under a publication ban, said she was appalled at the light punishments being considered.
"I think it's insulting, this entire thing is insulting," the woman said, adding she's no longer able to trust police and lives "a cave-like" existence, too afraid to leave her home most days.
She explained she was in the lobby of the Markham Rd.-Sheppard Ave. E. area police station on April 17, 2002, to pick up her husband from work when Hornett began making "lewd" comments. She was taken aback when he came out from behind the front counter and asked if her breasts were real or not.
The victim said she was wearing a dress with large sleeve openings and no bra and Hornett reached in and squeezed her breast and nipple.
She chose to take the stand yesterday and deliver a victim impact statement, but found herself fighting back tears as she read.
"Two years of my life have been stolen," she said, addressing Hornett. "How dare you."
The woman's husband said he has endured tremendous stress on the job since the ordeal.
"How many people have to go to work every day with the guy who sexually assaulted their wife?" he asked.