'You're grounded,' delighted daughter, 10, tells mom
Patricia Welch reveals why she left her family for five days
Aron Heller
The Ottawa Citizen

Wednesday, October 27, 2004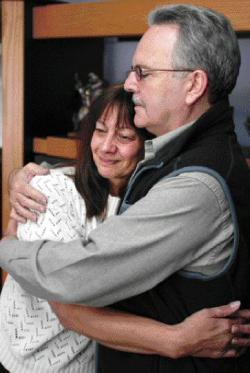 CREDIT: Wayne Cuddington, The Ottawa Citizen
Patricia Welch told husband Alan the stress she felt was from financial and medical issues.
Trying to take her little sister's mind off the drama that had overtaken their lives, Jenna Welch, 23, took 10-year-old Petra to a video store Monday night to rent a movie. Upon their arrival, Jenna's cellphone rang. It was her older sister, Alana, with a message: "Mom's home."
Jenna and Petra made a mad dash home, barrelled through the front door and leaped into the arms of their mother. An exhausted Patricia Welch had just parked her blue Ford Aerostar van in the family driveway and approached the door she had walked out five days earlier. She rang the bell and, within seconds, was face-to-face with her eldest daughter, Alana, 25, who cried, "Oh, Mom."
"I had no idea what I would find, no idea at all," Mrs. Welsh told the Citizen in an exclusive interview. "That's why I rang the doorbell and hoped that my family would greet me -- and they did."
After a long, wordless embrace with her youngest daughter, Petra, the pig-tailed fifth-grader looked up at her mother and delivered a message of her own: "You're grounded."
A Crystal Beach home that only a few hours earlier seemed prepared for a tragedy, became filled with euphoria, as Alan Welch and his four daughters welcomed home their wife and mother, the "heart of the family."
Mrs. Welch, 51, went shopping for milk last Thursday. She drove for five days, going as far as Niagara Falls, living on granola bars and sleeping in doughnut shop parking lots.
While Alan, Alana, Jenna and Vanya focused on her emotional return, it was Petra who confronted her mother with the question inside them all: Why?
Mrs. Welch told her family it was a culmination of "small stresses," a combination of "financial and medical" reasons, according to her husband. Mrs. Welch had shown no signs of distress before leaving. Mr. Welch described the sudden departure as "temporary stress-induced insanity."
Mr. Welch, a 56-year-old information technology consultant, hasn't had regular work since June. Mrs. Welch, a stay-at-home mother, said she was afraid she was going to lose her Crystal Beach home. What seemed to have tipped her over the edge, Mr. Welch said, were several lumps she had found in her legs, and had not revealed.
Her family promised to get Mrs. Welch, who met with the police mental health unit yesterday, to a doctor right away and to "smother her with love."
Mrs. Welch said she was "like a zombie," driving non-stop during her journey, said her family. She visited Niagara Falls, Toronto, Bon Echo Provincial Park, Cobden, Perth and other familiar places. "She went to pretty places, places where she had good memories," her husband said.
Each night, she parked in a Tim Hortons parking lot and slept in the van. She subsisted mostly on granola bars stashed in the van as snacks for the children. Meanwhile, hundreds of friends and relatives searched for her. Mrs. Welch was spotted on Sunday between Cobden and Eganville. Several other sightings were reported.
Sgt. Peter Lineger, of the adult missing persons unit, said he was happy Mrs. Welch had returned and no charges would be filed.
CREDIT: Wayne Cuddington, The Ottawa Citizen
Petra Welch, 10, foreground, and sister Jenna are relieved their ordeal is over.
"She's a missing woman. She's not a criminal," he said. "We're just as relieved as the family that it's been resolved in this manner."
Mrs. Welch expressed her gratitude to those who helped search for her. "I'm so overwhelmed by it all," she said, tears streaking her cheeks. "I'm so sorry for all the chaos I've caused and thank you to everybody who's been running around and helping my family."
Petra said her mother said she was embarrassed her disappearance became so public. "And I said, 'Then, you shouldn't have gone'."
They agreed the experience has made the family closer. "Petra said to me this morning, 'We have to show Mummy we love her and we don't take her for granted'," said Alana. "It really emphasizes that we all know we are there for each other, but it has to be said sometimes."
© The Ottawa Citizen 2004