Dec. 10, 2004. 06:12 AM

Honest mother's $40,000 escapade
Return of lost loot leads to praise
Reward won't be clawed back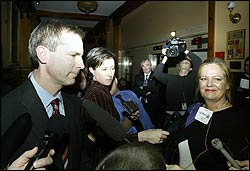 RENÉ JOHNSTON/TORONTO STAR
Debbie Peliti, right, meets the media and Premier Dalton McGuinty at Queen's Park yesterday.

RICHARD BRENNAN
QUEEN'S PARK BUREAU

Welfare recipient Debbie Peliti's adventure with $40,000 in cash took her from the street to a bank to the Legislature.

First she found the money lying on the street.

Then she got a $2,000 reward after turning the money in to the TD Bank.

Then she found out she had to give the reward to the government or have it clawed back from her welfare cheques.

That brought her to the Legislature yesterday, where she won a standing ovation from MPPs and a promise from the government that she can keep the $2,000.

"It is just so important for us to send the right signal," said Premier Dalton McGuinty, who personally thanked Peliti for her honesty.

It was a relief for the mother of six because under normal circumstances the reward would have been deducted over time from her social assistance cheques.

"This is great because I can spend it knowing I'm not going to have to pay it back later," Peliti said of the money.

In the Legislature, she received a standing ovation from MPPs of all parties and appeared overwhelmed by the attention as she stood to be recognized alongside her sons Jeffrey, 12, and Chase, 10.

"It's Christmastime and there never has been such a great story on the news as watching a very honest person take that money and bring it right into the bank," Community and Social Services Minister Sandra Pupatello said of Peliti's actions.

"Let me tell you this: the government has absolutely no intention of clawing back that funding," Pupatello told the Legislature after being questioned about the government's policy on sudden windfalls for people on social assistance.

Said Peliti: "The whole house cheering and clapping was something else ... this thing is playing out like some movie on TV."

Peliti, who receives about $1,000 a month on social assistance, stunned employees of a Scarborough branch of TD Canada Trust on Monday when she turned in a plastic bag filled with money, only to come back moments later with more bills that had been blowing around the street.

The cash was being delivered to the bank on Kingston Rd. by Securicor, which has launched an internal investigation and is conducting a review of its procedures, said spokesperson Leslie Murray.

Murray declined to provide details for security reasons.

After being assured by Pupatello that she could keep all of her reward money, Peliti was talking to reporters in the corridor when McGuinty suddenly appeared in the middle of the media scrum.

"I just want to congratulate you and tell you how proud we are of what you did and the good example you set, not just for your kids, but for all Ontarians," McGuinty said.

"You did a wonderful thing. We are very, very grateful for that. Congratulations."

The Premier said he wasn't even aware there was a rule stating that any money a person on welfare receives, such as an inheritance or cash gift, is clawed back.

McGuinty said this Christmas story should help counter the demonization of welfare recipients that was a hallmark of the former Tory government.

Peliti had one bit of advice for McGuinty:

"Say what you mean and mean what you say."

New Democrat MPP Michael Prue (Beaches-East York) took the opportunity yesterday to press the Liberal government to stop clawing back federal child-care supplement money from welfare recipients to the tune of $202 million.

with files from Rob Ferguson

Comments from the Ottawa Men's Centre

McGuinty and Pupatello are famous for promoting hatred towards fathers, if a father attended Queens Park on a protest the odds of it making the news is entirely remote.

The McGuinty / Ontario Government have a policy of "Gender Apartheid" and now with new legislation are effectively creating concentration camps for male victims of the Ontario Goverment's Gender Apartheid policies against men. Many thousands of men are denied a fair legal hearing, pleadings are struck, restraining orders issued, incomes imputed that result in men being thrown in jail in increasing numbers when if a fair hearing had been held many of those men would be custodial parents not alienated parents in the lives of their children who grow up being abused by the McGuinty Government, yes, McGuinty is effectively a corrupt child abuser.