Boyfriend charged in slaying of ER doctor
'I told her I thought she was in danger,' says friend of Ottawa MD
Isabel Teotonio and Greg McArthur
The Ottawa Citizen
Monday, December 13, 2004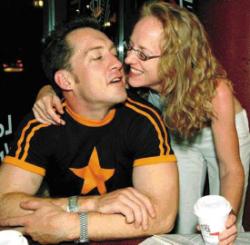 CREDIT: Joanna Rees Photography
Dr. Dorothy Halton and Burns Coutts as they were last summer on Canada Day. Mr. Coutts is charged with murder in the death of Dr. Halton, whose body was found in her Main Street condominium on Saturday. Police say the Queen's medical school graduate was strangled.
A senior federal government policy adviser is charged with the murder of his girlfriend, an emergency room doctor who friends say couldn't end an abusive relationship with the accused.
Burns Coutts, 36, who works at Environment Canada, was charged last night with first-degree murder in the slaying of Dorothy Halton, 40, who was found strangled in her condominium, a few steps from the Rideau Canal, on Saturday morning.
Friends say over the past few weeks, Dr. Halton wanted to end the year-long relationship, but couldn't bring herself to cut Mr. Coutts out of her life.
Sarah Hurford, a friend of Dr. Halton's, said the last time she saw her was Wednesday at her home, located at 10 Main St. When Dr. Halton greeted her at the door, she had a bruise on her right cheek, Ms. Hurford said.
"She was, at once, very afraid, but was also determined that she was going to be OK," Ms. Hurford said last night.
"I told her I thought she was in danger and strongly urged her to make a record of abusive incidents that took place -- the dates, the times -- exactly for this reason. I didn't expect it to go this way."
The couple, who lived together for a few months in the summer, had recently sought counselling, family and friends said.
Mr. Coutts was arrested Saturday at 8:30 p.m., after he returned to Ottawa from Montreal, where he had fled and threatened to commit suicide at a downtown hotel, tying up traffic for hours.
Montreal police were called to the Delta Hotel around 4:30 p.m. Saturday on information that a guest was threatening to jump from a balcony.
Police and paramedics responded by blocking off a busy street. Traffic was interrupted for three hours as officials tried to determine whether the man they believed was barricaded in his room was armed, said Montreal police spokesman Steve Morissette. After identifying the guest as Mr. Coutts, police ran a check on his name and realized he was wanted for murder by Ottawa police.
When police finally burst into the room, Mr. Coutts was gone. All that was left behind was a note, but Mr. Morissette would not release details of its contents.
At that time, Montreal officers received a tip from one of Mr. Coutts' family members that he was headed back to Ottawa, where he was eventually arrested.
Mr. Coutts is an expert on climate change and has appeared at workshops and public forums on the issue.
Ottawa police spent yesterday combing through the hotel room as well as Mr. Coutts' car, which had been left at the hotel.
Meanwhile, family and friends of Dr. Halton spent the day trying to come to grips with her death.
"You always ask yourself, could you have done anything to help," Ms. Hurford said, crying softly as she spoke.
"I said to her, 'There's always a spare room in my house and you're welcome to stay here if you don't feel safe.'
"I was here on Friday night and she didn't call."
Another close friend said Dr. Halton had a history of bad relationships and refused to give up on them. Those close to her said she had an impeccable sense of style, a sharp mind and a love of cycling, skiing and dancing. "Her only weakness was men," said Joanna Rees.
CREDIT: Copywrite Joanna Rees Photography
Dr. Dorothy Halton served in emergency rooms across Ontario, from Winchester, to Dryden, to Moose Factory.
"Despite all her good spirits and accomplishments she chose to love abusive boyfriends.
"Dorothy always believed that with enough therapy and that if only you took the right chemically balanced pill, that everything would be fine. It was part of her medical background," Ms. Rees said.
"Unfortunately, she didn't want to face the fact that everything wasn't fine and that you can't just go to therapy and fix everything."
Dr. Halton, schooled in classical music and a globetrotter who travelled to Costa Rica, Thailand and Nepal, was described as a free spirit. Soon after she met Mr. Coutts last year, the couple spent three months on a worldwide trip.
Dr. Halton's brother-in-law said the family had heard hints that she was in a violent relationship, but were uncertain.
"I would like people to remember her for her passion for life and the huge number of friends she had and her amazing accomplishments," saidJoseph Hillaby, from Calgary, Ms. Halton's home town.
Her mother, Eleanor Halton, remembered her as being "loving and brilliant" -- and someone who loved to help others.
Dr. Halton's work as a travelling emergency room doctor took her across Ontario, treating patients in Renfrew, Winchester and as far away as Dryden, near the Manitoba border. Her last trip took her to Moose Factory, on James Bay.
As a locum emergency room doctor -- a doctor who fills in temporarily when a hospital is short-staffed -- she spent weeks in hotels and rental cars, away from family and friends. It never interfered with her work, colleagues say.
"Sometimes, in rural areas, the skills of the locums you attract aren't as good as you like," said Dr. Karen Mazurski, a general practitioner at Dryden Regional Health Centre. "She was very good. We were very happy with her."
She didn't begin her career in medicine until 1997, when she graduated from Queen's University. Before that, she had spent most of her adult life as a classical flutist. She had two degrees in music from the University of Western Ontario and once played in London's Royal Albert Hall.
She got turned on to medicine while working as a ski and music instructor in Whistler, B.C., where she lived for 10 years.
"She was really interesting because she had a background in music and then decided to do a dramatic switch in careers," said Dr. Lauren Shaw, a family practitioner at Whistler Medical Centre, who worked with Dr. Halton when she was a student.
"She came into it from quite a different background and I think that always adds a more human, well-rounded side. ... She wanted to help people more directly. I think she was a real humanist."
In 1998, Dr. Halton broke her back when she was hit by a truck while cycling in Kingston and was confined to a body cast for 10 months.
"She had a very open attitude toward life. I think she got that from her time in the body cast," said Ms. Rees. "She never took any day for granted."
"She had bad luck," added Dr. Max Buxton, a friend and colleague who was in charge of scheduling Ms. Halton at Renfrew Victoria Hospital. Dr. Buxton met Dr. Halton while the two were conducting postgraduate training at the University of Ottawa. He called her "very accomplished," but was concerned when, in the fall, she didn't show for an emergency room shift. After she missed the shift, he never saw her again.
"I didn't really feel it was my place to be prying. I didn't know if she had flown off to Thailand. ... I didn't know know what had gone on."
Dr. Halton's slaying is the 10th homicide in Ottawa this year. Mr. Coutts is scheduled to appear in court today.
© The Ottawa Citizen 2004