Baby found in Kansas might be missing girl
Police: Woman charged with kidnapping leading to death
Friday, December 17, 2004 Posted: 11:03 PM EST (0403 GMT)

Police say Bobbie Jo Stinnett may have been killed for her baby.
A Kansas woman who had a miscarriage was charged with kidnapping a child cut from the womb of her slain mother, authorities said Friday. DNA tests are being carried out to confirm the baby girl is Bobbie Jo Stinnett's daughter but an Amber Alert for the child has been cancelled. Sheriff Ben Espey said: "The child is probably going to be OK."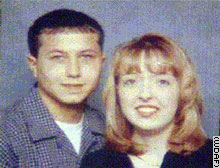 Bobbie Jo Stinnett, who police believe was killed for her baby, and her husband Zeb.
(CNN) -- Authorities believe an infant girl found at the home of a Kansas woman is the same baby taken from her mother's womb Thursday after the mother was killed in Missouri.
Lisa Montgomery, 36, of Melvern, Kansas, confessed to strangling Bobbie Jo Stinnett, 23, and then "removing the fetus," according to an FBI affidavit filed Friday.
Stinnett was killed at about 3 p.m. Thursday (4 p.m. ET) in her house in Skidmore in northwest Missouri.
Montgomery, whom authorities say had a miscarriage earlier this year, was arrested and charged with kidnapping resulting in death. If convicted, Montgomery could receive a maximum sentence of life in prison or the death penalty, and a maximum $250,000 fine.
Authorities said they believe Stinnett was strangled with a rope or other type of line.
The baby was taken from her body, possibly with a knife, said Sheriff Ben Espey of Nodaway County, Missouri. An autopsy was under way Friday.
The affidavit said the FBI was given a tip by a dog breeder in North Carolina who saw postings from Stinnett, who was eight months pregnant, and Montgomery in an Internet chat room.
Stinnett and her husband bred dogs and sold them over the Internet, neighbors said.
The FBI traced an e-mail to Montgomery and sent agents to monitor the woman's home, where they saw her with a "newborn female infant."
Friday night, the healthy, one-day-old baby was in a hospital in Topeka, Kansas, being examined by a pediatrician, Espey said.
Montgomery's husband told the FBI that his wife had called him Thursday night from Topeka and told him she had just given birth. Kevin Montgomery drove 40 miles with his two teenagers to pick up his wife. Lisa Montgomery rode home with her husband while one of the children drove the other car home, according to the affidavit.
Espey told CNN: "If the female offender of these two possibly lost a child to a miscarriage, that might be a motive. I don't think she was going to take this child to try to sell it or move it. I think she was probably going to take it because she had lost one through a miscarriage at about six months."
An Amber Alert issued for the missing infant was canceled Friday evening, police said.
Amber Alert delay
Espey said he had gone to a local member of Congress after he was told that the case did not meet the criteria for an Amber Alert because authorities did not know the child's hair or eye color or any other details.
He said the alert was delayed until about midnight Thursday.
"I'm a little disappointed that it happened like it did," he said. "All of us standing here feel like this baby, even though it was taken a month premature, we had a live baby. I feel like that should justify an Amber Alert."
Police: Blond hair found in victim's hand
Blond hair found clutched in Stinnett's hand could provide DNA evidence, Espey said. Fingerprints also were found at the scene, but no weapon was discovered, he said. There were no signs of forced entry.
Neighbor Chris Law said he saw a car at the house about the same time authorities believe the slaying occurred, and he said he regrets not going to check on Stinnett.
"Everybody said she's a nice lady," Espey said. "She didn't have any enemies."
Skidmore is a town of a few hundred residents about 35 miles north of St. Joseph, Missouri.
CNN's Miriam Falco contributed to this report.