Celebrating Xmas With All the Exes
Remarriages Expand Guest Lists for Holiday Gatherings
By Annie Gowen

Washington Post Staff Writer
Saturday, December 25, 2004; Page A01

This year, when Vienna novelist Diane Chamberlain circulated her family's Secret Santa list, she added her boyfriend's name to the expanding roster of relations at their Christmas gathering: her ex-husband and his wife, her former mother-in-law, her three ex-stepdaughters and their partners, and a brand-new ex-stepgrandson, 9-month-old Nolan.

For the past four years, Chamberlain's extended family has celebrated Christmas with a turkey dinner at her home, where it has sometimes been harder to keep track of which guests are vegetarian or lactose intolerant than of the complicated relationships binding the brood.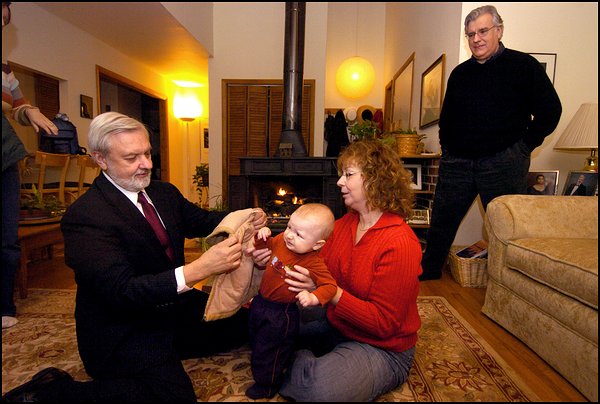 "Everybody is amazingly good," Chamberlain said. "I'm incredibly lucky."
Therapists and family experts say that as divorce and remarriage rates rise, holiday gatherings such as Chamberlain's -- in which divorced spouses reunite for the day to celebrate with new partners, children and stepchildren -- are becoming more common.
But the phenomenon is still rare enough that no catchphrase has been coined for it. A blended-family Christmas? Mingled Day? All-inclusive holiday?
"My partner calls it the 'Ex-Spouses-Only Party,' " joked Lisa Cohn, co-author of "One Family, Two Family, New Family: Stories and Advice for Stepfamilies."
Margorie Engel, president of the Stepfamily Association of America, said more divorced parents are choosing to reunite with their exes over the Thanksgiving turkey or the yule log for the sake of their children. Having one event is a lot easier on youngsters than requiring them to sit through a succession of split-family celebrations. Engel attributes the trend to the increasing number of states that require divorcing couples to take parenting classes and to the "critical mass" of divorced and remarried families in the United States. She estimates that 47 percent of all marriages today are remarriages and that 65 percent of those create stepfamilies.
But such gatherings generally are successful only if the divorces are amicable, Engel said.
"It takes a couple who have recognized their marriage was not going to work but are still reasonable people and loving parents to the children," she said. "When you've got people who are still throwing spitballs or using the children to communicate . . . these aren't the couples who are going to do this grand gathering."
Planning -- including discussing the idea of a blended gathering with the children and setting price limits for presents when the number of people proliferates -- is key, Engel said. But awkward moments are virtually guaranteed.
California divorce mediator Jann Blackstone-Ford recently heard from one stepmother who was embarrassed during a family celebration with her husband and his ex-wife.
"He said, 'Honey, will you please pass the potatoes?' -- and two women reached for the potatoes," recounted Blackstone-Ford, who recently co-wrote a book -- with her husband's ex-wife -- about her extended family experiences, "Ex-Etiquette for Parents: Good Behavior After a Divorce or Separation."
Cohn said her first mingled Christmas -- with her current partner, his ex-wife, Cohn's ex-husband and his new wife and four of their children -- was such a success six years ago that the family has celebrated together ever since. But it was not without its dicey moments early on, particularly after the ex-wife walked in wearing a ballerina lapel pin that matched a set of earrings Cohn owned. Both had been gifts, at one time or another, from Cohn's partner.
"I felt like I was sweating bullets, but after the initial moments of discomfort, it was nice. At one point, everybody was singing Christmas songs and loosened up. . . . I remember at that moment, they actually felt like family and friends. It took an hour to get there," Cohn recalled.
Lawyer David Boies, of Microsoft antitrust and 2000 presidential election recount fame, celebrates Christmas at his Westchester, N.Y., home with his wife, Mary Boies.
His six children from three marriages, their spouses and the grandchildren and at least one of his ex-wives are there, according to Mary Boies. This year, his second wife, Judith, will join them for Christmas, and first wife Caryl will join them on a beach vacation, Mary Boies said.
"When people first hear about it, they say, 'What, are you crazy?' " Mary Boies said. "I say, 'No, I'm normal. Everybody else is crazy.' . . . A father wants to be with his children on Christmas, and a mother wants to be with her children on Christmas, and who am I as a stepmother to stop them? I think this is normal. It's just the family getting together. It's just that simple."
Chamberlain's blended family Christmas was born of necessity: She split amicably from her second husband five years ago but wanted to remain close to his three daughters from his previous marriage. This year, her ex, David Heagy, 58, a satellite imagery engineer, is throwing the family Christmas party at his home with his wife, Lily. The group will include Chamberlain and her boyfriend of 10 months, photographer John Pagliuca.
"This family is pretty unusual," she admitted. "But my ex-husband was really good about doing what he could to make sure it was easy for me to stay part of the family. The girls have been wonderful to me. It's worked out really, really well."
Staff writer John Kelly contributed to this report.