May 26, 2005. 10:56 AM

Stop breaking up families: Ombud
Current system forces parents to surrender disabled kids in order to get help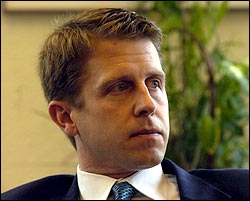 TONY BOCK/TORONTO STAR

FROM CANADIAN PRESS

The Ontario government needs to take immediate action to ensure families don't have to surrender their severely disabled children to the Children's Aid Society so they can get needed care, an ombudsman's report concludes.

The fact that this has been happening is "unjust, oppressive and unfair," Ombudsman Andre Marin said today.

Parents with severely disabled children "are stuck between a rock and a hard place," Marin said.

Those who have been forced to give up their children should get their parental rights returned right away and the government should give them the money they need so they can ensure adequate care themselves, Marin said.

As many as 150 such families have resorted to giving up custody of their disabled children to Children's Aid "out of desperation," the report said.

Marin warned that without long-term solutions, more families will have to seek the help of the Children's Aid Society in the future.

"Families are in immediate peril," the 44-page report says. ``It is obvious that there is a moral imperative to act now."

The report says "governments have preferred to study the matter to death" rather than finding solutions.

Marin launched his probe earlier this month after six families complained they had to give up custody of their severely disabled children to the Children's Aid Society.

After Marin announced the investigation, dozens of other families came forward with similar tales.

Many of the children have complex behavioural problems and are physically or mentally challenged.

"Unless something is done urgently, it will be happening not only in this day and age, but again tomorrow and a year after tomorrow," the report says.