Tue, June 21, 2005



Bomb squad closes 417


Highway shut for hours after report of explosives in car going to court


By ANDREW SEYMOUR, Ottawa Sun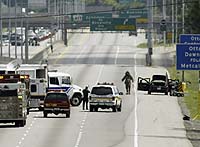 Members of the Ottawa police bomb squad search a car for explosives on the Queensway yesterday morning. Police said no explosives were found. (Photo: Errol McGihon, Sun)
A BOMB SCARE created traffic chaos yesterday as the Queensway was closed for more than three hours while police searched a car for explosives.
A black Dodge Neon was eastbound on Hwy. 417 just past Pinecrest Rd. when it was pulled over by Ottawa police at about 8:30 a.m.
"There was information to the effect that there were explosives in the car," said Ottawa police Staff Sgt. Monique Ackland, adding no explosives were found. "He was on his way to court and they had to intercept him."
Sources confirmed the driver of the Neon was Brian McGillivray, who was scheduled to be sentenced for his role in an illicit gun and ammo-trading ring involving two police officers and a city firefighter.
NO NEW CHARGES
McGillivray, 35, eventually appeared in court yesterday. His sentencing was adjourned until June 30.
Although McGillivray is wanted for fraud in Durham and was a suspended driver, no new criminal charges were laid against him for yesterday's incident and he was released from custody.
McGillivray, who was charged along with Ottawa police Const. Sonny Wong, RCMP Const. Charles Soucy and firefighter Peter Lamar, pleaded guilty in May 2004 to 12 criminal counts that included possession of restricted weapons and ammunition, possession of weapons without a permit and careless storage offences.
At the time of McGillivray's arrest in May 2003, police seized weapons from his Stittsville home, including a machine-gun as well as the civilian version of an M-16 assault rifle.
Sources indicated surveillance officers had been following his car yesterday after receiving information it could be carrying a bomb. At one point, the officers lost sight of the vehicle. When they spotted it again, the decision was made to pull over the car on the busy highway in rush-hour traffic rather than risk losing sight of it a second time.
ROBOT ON ROAD
Knowing the car was headed to the Ottawa courthouse, police beefed up security there until confirming the vehicle had been stopped on Hwy. 417.
After taking McGillivray into custody without incident, the Ottawa police explosive disposal unit was called and the Queensway was closed in both directions.
Over the next three hours, a police bomb robot and an officer in a protective suit approached the vehicle periodically to examine several suspicious items inside. At one point, the robot removed a plastic shopping bag. After setting it down next to the median, it was destroyed with a blast of high-pressure water.
The highway shutdown created headaches for motorists, who were forced onto clogged streets like Carling Ave. and Iris St. Some frustrated drivers escaped the gridlock by driving the wrong way up on-ramps.
Police made no apologies for closing the highway. "Our prime goal is to ensure the safety and security of the public," said Ackland.
613-797-3237