Could Scalia be next chief justice?
Outspoken style gets closer look with Rehnquist ailing
Wednesday, June 22, 2005 Posted: 2224 GMT (0624 HKT)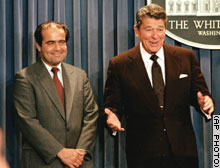 President Reagan announces Antonin Scalia's Supreme Court nomination in June 1986.
WASHINGTON (AP) -- When Antonin Scalia was nominated to the Supreme Court, his confirmation hearing was so dull that one Democrat cajoled: "Let yourself go. It's pretty boring so far."
Scalia resisted that invitation nearly 20 years ago, but he's been full of sound and fury ever since.
Though widely regarded as a leading intellectual on the court and often described as a gentleman, Scalia also is the most provocative, and sometimes petulant, justice.
He has mockingly read aloud the opinions of fellow justices. He's penned sneering dissents that excoriate colleagues for "feeble" lines of argument. He's badgered quaking lawyers.
After two decades, his outspoken approach sometimes is regarded almost as old hat. But it is getting a closer look amid speculation that Chief Justice William Rehnquist, who has cancer, soon may step down from the bench and create an opening that could allow President Bush to shift another justice to the court's most powerful seat.
Some examples of Scalia's style:
In one dissent, he wrote that a 1989 opinion by Justice Sandra Day O'Connor, in which she sidestepped the question of whether abortion should be legal, was "irrational" and "cannot be taken seriously."
In another case, Scalia wrote of a 2002 opinion in which fellow justices voted to ban the death penalty for the mentally retarded: "Seldom has an opinion of this court rested so obviously upon nothing but the personal views of its members."
In a third case, he wrote, "This court seems incapable of admitting that some matters -- any matters -- are none of its business."
When an Indiana lawyer was suspended from practicing law in 2002 for filing a brief that improperly criticized state judges, the man's defenders argued that his attacks, while tasteless and intemperate, were no worse than those Scalia had leveled at fellow members of the high court.
While Bush speaks highly of Scalia's legal philosophies, many court watchers think he would be an unlikely choice for chief justice because his operating style is so polarizing.
"The real question is whether a justice who has, from the beginning of his career, thought that his job was to stake out principled positions, could be a real consensus-builder," said Stanford law professor Lawrence Lessig, who clerked for Scalia in 1990-91. "Maybe he could do it. It would create a certain kind of dissonance with what's happened before."
"He's combative. He's in your face," says Stephen Gillers, a New York University law professor. "He does not have what most people think of as a judicial demeanor."
But to be fair, Gillers adds, one must also give credit for Scalia's strong intellect.
The justice's style has produced what even his admirers speak of as "Scalia moments" -- so many that lawyer Kevin Ring, a former counsel to the Senate Judiciary's Constitution subcommittee, has compiled them in a book that reads sort of like a compendium of Scalia's greatest hits. Or misses, in the view of his detractors.
"Since his appointment in 1986, Scalia has been the court's premier conservative, intellectual gladiator, and chief wordsmith," Ring wrote in "Scalia Dissents," published last year. "More than anyone who has served on the high court in recent history, Scalia has given life to Aristotle's injunction that 'it is not enough to know what to say -- one must know how to say it.'"
Plenty of court watchers reject Ring's conclusion that Scalia has gotten it right.
Michael Frost, a professor of legal rhetoric at Southwestern University School of Law, analyzed the language of Scalia's vitriolic dissent from the court's 1996 ruling that the all-male Virginia Military Institute must admit women and concluded that Aristotle would find it "a classic example of the misuse of rhetoric."
"Aristotle, I think, would say that Justice Scalia refuses to show loyalty (to the court), calmness (in making his points), goodwill (toward his opponents) and a seemly modesty, and instead demonstrates pride (in his own reasoning), intemperance (in his language), and abuse (of his colleagues)," Frost wrote in a 2003 article for Legal Affairs magazine.
Elliot Mincberg, legal director of the liberal group People for the American Way, said that too many Scalia moments from a chief justice could hurt the court's image.
"There's no rule that says you can't have an abrasive person as chief justice," he added, "but I think most people would agree that those kinds of techniques are not going to make the wheels of justice turn as smoothly."
'That's Nino'
Rarely do fellow justices openly speak ill of one another, so it is hard to know what the other eight make of Scalia.
Ruth Bader Ginsburg, a friend of Scalia's, did give him a mild public scolding a few years ago.
"I've been known on occasion to suggest that Justice Scalia tone down his dissenting opinions ... because he'll be more effective if he is not so polemical," she said in 2002. "I'm not always successful."
Some court watchers, Emory law professor David Garrow among them, see evidence that O'Connor, in particular, has taken personal offense at some of Scalia's language. At the same time, though, there is some belief that after all these years, other justices simply may be resigned to Scalia's rhetoric and wave it off.
"Everybody understands, 'That's Nino,'" Lessig said.
Still, Lessig completes his thought in a way that raises questions about whether Scalia's style would be a good fit for the robes of a chief justice.
"It may not be effective," he said. "That's a real question: whether some people get to be so alienated by it that the consequence is that they no longer want to deal with him."
Occasionally, clues to the interpersonal relations of the justices slip out.
The papers of deceased Justice Harry Blackmun, who retired in 1994 and was known as a leading liberal, include a small 1996 note from Scalia in which he laments: "You are right that I am more discouraged this year than I have been at the end of any of my previous nine terms up here. I am beginning to repeat myself, and I don't see much use in it any more. I hope I will feel better in the fall."
Garrow said he found it striking that Scalia would write so candidly and personally to a justice with whom he had so little in common ideologically.
For all the intensity of some of his legal arguments, Scalia, at 69, is known as a gentlemen who treats his clerks well, charms audiences with his self-deprecating comments, and sings with a booming voice. His pet peeve appears to be reporters and photographers, whom he has snapped at more than once. In 2003, he barred broadcast journalists from covering an event in which he was honored for supporting free speech.
Christine Jolls, a Harvard law professor, served in 1996-1997 as Scalia's "counterclerk," hired specifically to present views that were the opposite of his. She said the justice's pointed legal arguments reflect his "frustration with what he perceives as insufficiently reasoned opinions." Still, Jolls said, she never saw significant tension with other justices, other than in their dueling opinions.
Some conservatives wonder if his clarion voice would get mushier if he were elevated to chief justice, as Rehnquist's did.
"The worry might be that he would take his institutional responsibilities so seriously that you would see some muting of his opinions," said John McGinnis, a Northwestern law professor and former Justice Department counsel from the first Bush administration.
Mincberg, from People for the American Way, said "We just won't know the answer unless it happens. And by then it will be too late to do much about it."
Copyright 2005 The Associated Press. All rights reserved.This material may not be published, broadcast, rewritten, or redistributed.
613-797-3237