Pain lingers after 10 years
Sportcaster's legacy lives on after his 1995 shooting death, as Susan Sherring explains
By Susan Sherring, Ottawa Sun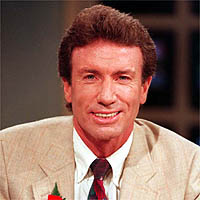 A lovely maple tree grows outside the CJOH TV station -- its beauty and grandeur a testament to the life lived by slain sportscaster Brian Smith.
It was 10 years ago today that Smith, rushing to get to a charity event after his evening sportscast, was senselessly gunned down in the CJOH parking lot.
He died the following day just before 1:30 p.m., leaving the community he loved in mourning.
Ten years later, most of us remember exactly where we were when we heard the heart-stopping news. Whether you'd met the 54-year-old Smith or not, most of us felt we knew him.
He came into our homes every night, giving us the sports highlights and his own sports editorial -- always fair, always reasoned.
His death hit us all.
The killer who gunned him down was Jeffrey Arenburg, a paranoid schizophrenic who we learned had a history of violence against the media.
The day he shot Smith in the head -- with accuracy that amazed even the police -- Arenburg was again hearing voices in his head which he felt he had to silence.
As he hung out in the CJOH lot, he waited for a face he knew before unleashing his deadly weapon.
It didn't have to be Smith, just someone he recognized, maybe one of the faces which graced the CJOH calendar hanging in his apartment, or perhaps a face belonging to one of the names he'd written down on a list of media personalities.
OTTAWA SHOCKED
The fact Smith was an innocent victim made the hurt all the more painful.
As former police chief Brian Ford said at the time, "There's no way you can protect yourself from something like this."
Smith was simply a well-known face at the wrong place and the wrong time.
Smith's killing was reported internationally and shocked Ottawa, where the former pro hockey player's support of local sport and charities over his 22-year career made him a community icon.
The public bombarded media outlets, most notably CJOH, of course, with a huge outpouring of affection.
His funeral saw St. Patrick's Basilica on Kent St. packed with more than 2,000 gathered for the service and hundreds more outside. Among the mourners were ABC newscaster Peter Jennings, former Lynx owner Howard Darwin, hockey commentator and former teammate Don Cherry, former Ottawa Senator Alexei Yashin, and figure-skating great Don Jackson.
Countless others saw and heard the funeral on CJOH and CFRA.
The community that had benefited from Smith's good work, from his support of youth in sport to the Ottawa Boys and Girls Club and all the sports franchises in the city, looked for ways to honour his life.
At the first Rough Riders game following his death, instead of a moment of silence, family members asked for a one-minute cheer.
His widow, Alana Kainz, who ran along the Rideau Canal from the funeral home to hear the moment, took part in the thunderous applause which lasted nearly five minutes and kicked off a game dedicated to Smith's memory.
That was to become the theme of marking his death -- not mourning the tragic event of his murder but celebrating his life.
Flags flew at half-mast at Lynx Stadium and Lansdowne Park in Smith's honour and memorial donations poured into the Boys and Girls Club.
The community wanted not just to honour Smith, but to stand strong against such a senseless act of violence.
The Senators launched several efforts to help keep his memory alive, including naming the media lounge Smitty's Place and contributing $20,000 as seed money to a scholarship fund for young people interested in athletics and journalism.
Several years ago, the Brian Smith Foundation, which raised money for student scholarships and helped kids go to camp, folded and all the money raised was handed over to the Ottawa Boys and Girls Club.
The club, in turn, renamed its camp "Camp Smitty."
Money continues to be raised for Camp Smitty through the annual Brian Smith Golf Tournament.
Since his death, hundreds of thousands of dollars have been donated in Smith's name.
CJOH news director Max Keeping, who hired Smith back in the early '70s, says all the good that has come of Smith's death, most notably Camp Smitty, will be the slain sportscaster's legacy.
"He was part of the Ottawa Boys and Girls Club himself," Keeping says.
The past 10 years have been a tumultuous time for Kainz.
As her husband was dying in hospital on Aug. 2, 1995, she promised him she would do everything she could to make sure something like this never happened again.
Kainz found herself thrust into a life she knew nothing about, starting with the heart-wrenching decision about whether to donate Smith's organs.
Kainz and Smith's mother, Eileen, agreed and now proudly point out that his heart, liver, eyes and bone marrow were donated to help so many others.
Kainz soon became a spokeswoman for organ donations, urging the public to make the decision before a crisis so they wouldn't be put in the same situation she was, making that choice at her dying husband's bedside.
Angry that Arenburg was free to live on his own despite repeated warnings he was a danger to society, Kainz quickly became an expert of sorts on the justice system and the world of schizophrenia.
Arenburg was found not criminally responsible for Smith's murder and was sent to the maximum-security mental institution in Penetanguishene.
GRANTED DISCHARGE
He has been living in the Barrie area with his brother since March 2003, when he was granted a conditional discharge from the hospital. He recently graduated from a community college.
According to guidelines from the Ontario Review Board, Arenburg must live with his brother, report to hospital staff once a month, submit urine samples, stay away from alcohol, drugs or weapons and give the Mental Health Centre in Penetanguishene 24 hours' notice if he intends to move.
With each appearance he made in front of the review board, Kainz was there, reminding everyone of what happened that dark day of Aug. 1, 1995.
"That's why I'm here today -- to remind the review board, Arenburg, the lawyers, that a man died," Kainz said at one meeting.
"A great man died."
As Kainz faces the 10-year anniversary of her husband's death, it's made all the more difficult knowing Arenburg is relatively free.
In depositions to the review board, hospital staff indicated Arenburg remains a significant threat if he doesn't continue to receive support from the hospital and family.
Kainz's insistence that Canada's mental health system had "failed" Arenburg and her determination to shine light on the weak spots in the treatment given to the mentally ill was clear during a five-week inquest into the death of the man she loved so much.
Topping the November 1997 jury's wish list of changes was balancing the patient's right to refuse medication -- a right many severely mentally ill Ontario residents exercise regularly -- with the community's right to be protected from dangerous mentally ill people.
Out of that inquest came Brian's Law, which was enacted more than five years after Smith was killed.
It's believed that if Brian's Law had been in place in August 1995, Smith might well be alive today.
The law gives mental health authorities more powers to hold and treat people with serious mental illness. It also creates community treatment orders which can require someone to undergo drug and other treatments as conditions of living outside an institution.
WIDOW VILIFIED
Six short weeks after burying her husband, Kainz -- a widow at just 30 -- entered into a serious relationship with Cognos software founder Michael Potter.
In a flash, she found herself being vilified as a gold-digger, whom gossipers said hadn't respected her husband's memory.
"I went from being a hero to a bum," Kainz says. "It's been difficult. There were times I simply didn't even want to leave the house."
At difficult as that time was, it was only going to get worse.
When their brief marriage ended, Kainz and Potter went through a very messy, very ugly and very public divorce.
Intimate details of their lives were revealed, and the accusations from both sides were nasty.
Their relationship produced two beautiful young girls -- Michaela and Tennyson -- of whom the couple share custody.
Kainz believes she is finally getting stronger, has learned from her mistakes and wants to move ahead.
While it's never easy to be publicly vilified, Kainz tries to be matter-of-fact about it.
And the very trusting woman is learning who she can count on, who she can depend on.
"Brian's family continued to be wonderful to me. They could easily have shunned me after I began my relationship with Mike, but they never did. They're a wonderful strong, supportive and loving family," Kainz says.
As she does regularly -- though in her words "not enough" -- Kainz recently paid Brian's mother Eileen a visit.
Kainz says there's no doubt Brian would have wanted her to enjoy all that life has to offer, and she tries hard to make every day count just as he did, to spend time with her daughters and a small group of close friends she knows she can trust.
Still, the anniversary of Brian's death is always difficult, the 10-year mark even more so.
"July is never a good month for me. When Brian first died, I tried so hard to remember everything we had done together before his death. So every July, I remember everything we did," she says with tears welling up in her eyes.
Kainz takes comfort from some of the life lessons she learned from Smith.
While his tragic death will never make sense, she knows Smitty wouldn't try to overanalyze something that will never add up. It's a lesson he learned playing pro hockey, when a coach advised one of his teammates that thinking too much just hurt the team.
'SHUNNED' CELEBRITY
Those who knew Smith will say he'd be uncomfortable, perhaps even embarrassed, by all that has been done to honour his name. But he would be proud -- but not surprised -- at the community for helping others.
Keeping says Smith "shunned" the celebrity status his job afforded him.
"But he used his influence in the public. He had an incredible sense of fair play, And he was a big supporter of children and sport," Keeping says.
That, of course, is the irony of his death.
The celebrity status that made Smith so uncomfortable during his life ended up being the reason for his death.
As Kainz once said, "All that has happened in Brian's memory is wonderful. But, sometimes, I think if he hadn't been who he was, if he hadn't been so popular and well-known, he wouldn't have been killed. I'd still have him."
Keeping says there are those at the station who have difficulty walking by the spot where Smith was killed, knowing it could have been them, instead of their colleague.
Every spring, a tee and golf ball mysteriously appear underneath the maple tree at CJOH. Before the first snow fall, it's taken away.
While some say they know who places it there, the anonymous nature of the gesture is meant to honour Smitty.
Tomorrow, at about the time Smith died, a group of CJOH employees will gather by the maple tree to remember their friend and colleague.
While there are many reminders of Smith within the building, Keeping says the donated tree is special.
"It's beautiful. It was chosen because of its beauty.
"The maple tree is a sign of life."
613-797-3237