Runaway bride draws lawn mower duty
Tuesday, August 9, 2005 Posted: 1601 GMT (0001 HKT)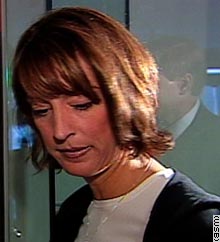 Jennifer Wilbanks makes a court appearance in June in Lawrenceville, Georgia.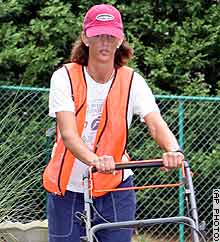 Jennifer Wilbanks mows the lawn Tuesday of a government building in Lawrenceville.
LAWRENCEVILLE, Georgia (AP) -- Runaway bride Jennifer Wilbanks mowed the lawn of a government building Tuesday as part of her court-ordered community service for lying to police after she ran off days before her scheduled wedding.
Wearing an orange community service vest, a ball cap that said "Life is good" and running shoes, Wilbanks seemed upbeat as she pushed a powered mower by a swarm of reporters and photographers. She briefly spoke when the mower's engine died in some tall grass.
"I'm doing well," said Wilbanks, who has been undergoing mental health treatment. She admitted with a laugh that it had been a long time since she had mowed a lawn.
"I need to get back to work. I don't want to get into trouble," she added.
In all, she was ordered to do 120 hours of service. Wilbanks had already completed 16 hours of her sentence by cleaning probation offices and washing public vehicles. State Department of Corrections spokeswoman Peggy Chapman said Wilbanks planned to work off eight more hours Tuesday, also picking up trash.
Wilbanks disappeared four days before her scheduled wedding in April. Hundreds of police officers and volunteers -- including members of the wedding party -- searched for her for three days.
Then she called her fiance, John Mason, from Albuquerque, New Mexico, early in the morning of her planned wedding day, claiming to have been abducted and sexually assaulted. She soon recanted her story, saying she fled because of personal issues.
Wilbanks pleaded no contest in June to telling police her phony story. She also was sentenced to two years of probation and ordered to pay $2,550 in restitution to the sheriff's office that helped with the search for her.
The nearby city of Duluth, where Wilbanks had lived with her fiance, spent nearly $43,000 to search for her; Wilbanks has repaid $13,249.
Copyright 2005 The Associated Press. All rights reserved.This material may not be published, broadcast, rewritten, or redistributed.
613-797-3237