Stephen Harper balances job, hockey dad duties
CTV.ca News Staff
March 1, 2006

One adjustment for hockey dad-turned-Prime Minister Stephen Harper is that Mounties now insist on driving him to the rink.

"Didn't used to get so much help," said Harper, who was sworn in as prime minister on Feb. 6. "Now we have a lot of people who want to carry the bags and sticks and open the door."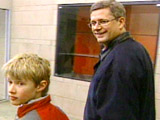 Prime Minister Harper takes his son to hockey practice.


As prime minister, Harper now has a federal government to run. However, he says it helps to be the boss -- he can often adjust his schedule to fit in the games of his nine-year-old son Ben.
"It's important to me because it's important to him," Harper said.

And it also lets the one-time player live vicariously through his progeny.

"I can watch my son play and say, 'Gee, I wish I could play like that,' because I was not much of a hockey player and I wish I could have he said.been,"


Prime Minister Harper stands amongst the other 'hockey dads' at the arena.


As Ben battles for the Sandy Hill Chargers, Harper tries hard to fit in as just another one of the hockey parents.
Asked what she calls him, Angela Rickman said: "Stephen ... Just plain Stephen."

Gary Leroux adds: "A regular guy like all the rest of us, so he still walks, talks and chews gum the same way as we do."

However, Harper has been the only parent asked to do the ceremonial face-off -- and he's the only one who really can't afford to yell at the refs.

"I really did lose it once last year, but I wasn't alone, when my son set up a goal where it was scored dead-centre in the net and the refs didn't call the goal," Harper said. "It was the worst call I ever saw."

He admits that, "I'm a pretty intense parent, but we have to tone it down for public purposes."

One small irony of the team is that Ben plays left wing, while Nathaniel Dewar -- son of local NDP MP Paul Dewar, who represents the Ottawa Centre riding -- plays on the right wing.

When the elder Harper and Dewar converse at the rink, politics isn't part of the agenda.

"Just talk hockey, make some jokes, and that's about it," Dewar said.

Hockey has been a life-long passion for Harper. He's even working on a book about the early history of pro hockey.

Now that he's prime minister, the rink remains a refuge.

"No matter how tired I am, no matter how many things I have on my agenda, if I can find time, I can always get up and always make it to the hockey rink," he said, relaxing in the seats.

With a report from CTV's Roger Smith