Mar. 16, 2006. 07:35 AM
She's been described as a "leggy con artist," a "seasoned grifter," and "predator" but to one of her victims, Tracy Lynn Sargent was a woman he fell in love with — and proposed to — which is why the heavy hearted man is filled with anguish about her scheduled release from jail this weekend.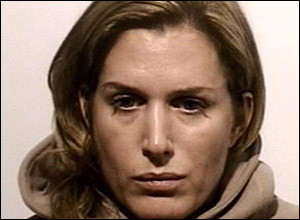 Tracy Lynn Sargent, a woman of many aliases, was convicted of scamming men for money. Her many victims have included a management consultant and a lawyer. She is to be released this weekend.
"Not only do you lose money, you lose the person you loved and trusted," says the man in his early 40s who was swindled out of thousands of dollars.
Like many others who've been fleeced, and not just those caught in so-called "sweetheart scams," there's a reluctance to come forward and risk potential embarrassment and misunderstanding. For instance, another man duped by Sargent, when contacted yesterday by the
Star
, did not want to revisit his experience. "Leave me out of it," he snapped before hanging up.
Sargent's other victims have included a management consultant, a senior executive, a lawyer and a divorced man with a young child.
While willing to discuss his involvement with the former prostitute as a warning to others, the 40ish businessman would only tell his story publicly if his identity remained protected.
Sargent, now 39, was sentenced last December to five months in jail after pleading guilty the previous month to two fraud charges. She has been in custody since last Halloween when Toronto police charged her with fraud over $5,000 after the businessman and another man said they'd been swindled out of a combined $50,000.
She is to be placed on one-year's probation when she is released. Her conditions stipulate she have no contact with the victims. She did not respond yesterday to a request for an interview from Vanier, part of the Maplehurst Correctional facility west of Toronto.
This was not the first time Sargent has been in trouble. She has 57 previous convictions for fraud. Seven years ago, the St. Thomas, Ont., native pled guilty to defrauding more than a dozen men, and three platonic women friends, out of more than $350,000. She has variously described herself as a member of the famous Bronfman family and a horse trainer for Diana, the Princess of Wales.
At her sentencing in 1998, she sounded contrite. "I displayed bad behaviour and caused uncalled-for pain," she told a Toronto court. "I'll never be able to say I'm sorry until I meet the people...and say sorry, and become the person I want to be. I apologize."
The judge sentenced her to two years in jail.
Her story received a lot of publicity, but the man didn't remember the story when he first met Sargent downtown two years ago. She initially introduced herself under one of her many aliases.
After meeting over coffee, the relationship seemed to blossom during email exchanges. At the time Sargent claimed to be a Swiss medical student studying to be a cardiologist at the University of Toronto and working part-time at the Hospital for Sick Children.
"We started to have a relationship. It was an intimate relationship," he says. They spent a lot of time together and took trips. "I felt, I'm really in love with her."
But he had doubts. He didn't meet any of her friends and she displayed erratic behaviour. And, as time passed, "she started to make some demands," he says, but adds moments later: "She never really directly asked me for money." It was more about presenting me with her problems that needed money to solve, he explains.
She had many reasons for needing cash. She needed money to cover her rent, "this amount for her tuition fees, she felt she was sick and suspected breast cancer." Being an overseas student, Sargent was on the hook to pay for an MRI. Implicit was an overarching threat: that without financial help she'd have to quit school and return to Switzerland.
"Every time there was a new demand, a new story. I started to be quite suspicious about her." Besides, her English seemed "too good" for a foreign student. Her pricey wardrobe and designer handbags also raised questions. Once she bragged about owning an $800 bra.
When pressed how she could afford the luxury items, she had a ready answer. Her wealthy father had died and "she was waiting for the will."
Through it all, Sargent claimed she was only borrowing the money, and planned to give him interest when her windfall came in.
He grew increasingly wary.
Ironically, at a time when the anonymity of the Internet is blamed for fuelling a growing "epidemic" of what web site
http://www.straightshooter.net
calls "romance fraud," it was the man's sleuthing on the world wide web that exposed her deceit.
The man found her image on a Toronto web site offering sex for sale, he says. "I confronted her, and she denied it was her and that it was a lookalike."
With some reservations, he accepted the excuse. But further Internet digging turned up news stories about her 1998 convictions.
"At this point I had already given her many, many thousands of dollars." And showered her with expensive gifts.
Again she said it was a case of mistaken identity.
"I guess a person in love believes in everything," he says with a sad laugh.
Finally, he sent an email to the prostitution web site as a "prospective client. She called, and this way I found out it was really her...and at this point I finished the relationship."
When he confronted Sargent, she wept and told him "she hates doing what she's doing and promised to repay me." But she changed her phone number, and stopped calling him. He went to the police and says while another complainant came forward, he believes there were others.
Today he is doing "not-too-good, so-so," after surviving what he calls a "huge financial loss." She was not ordered to pay restitution.
"It's extremely difficult to forget and move on," he continues. "The difficulty is I still love her and I know I'm destroying her by doing what I'm doing," he says, referring to his willingness to tell his story and put her name back in the spotlight on the eve of release.