'Perfect wife' confesses to preacher's slaying, police say
Saturday, March 25, 2006 Posted: 0522 GMT (1322 HKT)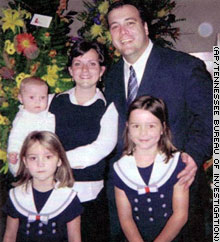 Mary and Matthew Winkler appear in an undated family photo with baby Breanna, Mary Alice, left, and Patricia
SELMER, Tennessee (CNN) -- To people in the congregation of the Fourth Street Church of Christ, Mary Winkler was "the perfect mother, the perfect wife."
She and her husband, preacher Matthew Winkler, were an ideal couple, congregants said.
But that image was shattered on Friday, when, according to police, Mary Winkler confessed to killing her husband.
Selmer police investigator Roger Rickman said the Alabama Bureau of Investigation, which is taking part in questioning Mary Winkler, informed police of her confession.
Winkler said she killed her husband Wednesday, the same day he was found, Rickman said.
Winkler, 32, faces a charge of first-degree murder.
"First-degree murder is premeditated," Rickman said.
But police were still looking for a motive. "Our concern at this point is why the crime took place," Rickman told The Associated Press. "There have been no specific accusations made by Mrs. Winkler."
The body of Matthew Winkler, 31, was discovered Wednesday night at the family's home.
Mary Winkler, found later with her children in Alabama, was questioned by authorities Thursday night and Friday morning.
The Tennessee Bureau of Investigation said it gathered enough information to charge her after speaking with her and getting search warrants for several locations.
Mary Winkler has not made a public statement.
When Matthew Winkler failed to show up for a midweek service at the Fourth Street Church of Christ, congregants went looking for him. They went to the church parsonage and entered when no one answered, police said.
Congregants found Winkler dead in the bedroom. He had been shot in the back, but there were no signs of a struggle, police said.
"We didn't know for more than 28 hours his body was in that home," TBI spokeswoman Jennifer Johnson said.
After the body was found, authorities issued a nationwide Amber Alert for the couple's three children: Patricia, 8, Mary Alice, 6, and Breanna, 1.
Children unaware
Police in Orange Beach, Alabama -- nearly 350 miles from Selmer -- spotted the family's minivan and stopped it Thursday evening, Assistant Police Chief Greg Duck said.
Duck said the children were in "very good condition" and were on the way to get something to eat when an officer pulled over their Toyota Sienna.
Rickman said Mary Winkler indicated the children did not know what had happened.
The slain preacher's parents have requested custody of the three children, who are in the custody of Alabama authorities, the TBI said.
Winkler waived extradition rights Friday and will be sent back to Tennessee, authorities said.
Investigators have found no evidence of a history of domestic violence, Johnson said.
'Perfect mother, perfect wife'
Selmer residents said they were shocked at the preacher's death.
"Words cannot describe how we all feel about this," said church member Pam Killingsworth, assistant principal at the elementary school where the two older children went to school.
She described Mary Winkler as always seeming like "the perfect mother, the perfect wife," with very loving children.
"Everybody is just totally shocked by what has happened."
"The kids are just precious, and she was precious," Killingsworth told The AP. "He was the one of the best ministers we've ever had -- just super charisma."
Wilburn Ash, an elder at the Fourth Street Church, said Winkler was hired there in February 2005, according to the AP. He preached straight-by-the-Bible sermons, the AP reported, delighting congregants.
Church members described Mary Winkler as a quiet, unassuming woman, the AP reported. She was a substitute teacher at the elementary school.
"They were a nice family," former Selmer Mayor Jimmy Whittington, who worked with the preacher collecting donations for hurricane victims last year, told the AP. "They just blended in."
Church member Sharon Pinckley told The Jackson Sun newspaper that Matthew Winkler "had a really true concern about saving people's souls and inspiring people to rethink their habits."
"He was such a great preacher, very uplifting and encouraging," she told the paper. "You felt good when you walked away from his sermons."
Pinckley also told The Sun the Winklers seemed an ideal couple. "They were such a good couple - happy," she said.
Copyright 2006 CNN. All rights reserved. This material may not be published, broadcast, rewritten, or redistributed. Associated Press contributed to this report.