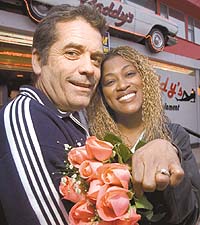 John Rossall and Michelle Taitt are separated again by court order, but their wedding's not off -- just on hold. (Alex Urosevic/Sun files)
The wedding organist won't know whether to play Here Comes the Bride or the theme song from Law and Order when a Scarborough couple finally strolls to the altar.
John Rossall made headlines last month by proposing to Michelle Taitt in the Scarborough Court of Justice immediately after she was acquitted of assaulting him.
Now, three weeks later, they are separated again by a court order as both Taitt and Rossall have been charged with assaulting each other St. Patrick's Day at their Scarborough home.
Both are free on bail with conditions prohibiting them from seeing or communicating with each other.
But that doesn't mean the marriage is off -- just on hold.

"Our wedding date will probably be in a year or a year and a half," Taitt, 37, said in an interview yesterday.
"We have financial problems and we need to put some cash aside," she said.
When informed that the Sun had learned she and her 48-year-old fiance were facing assault charges, she replied, "You shouldn't believe everything you hear.
"The courts will reveal itself. They just want some news," Taitt said. "You have to speak to my lawyer."
PHONE CALL TO SISTER
Police alleged the couple had been drinking heavily on March 17 when they became involved in a verbal dispute over her use of the phone as she spoke about her relationship problems with her sister.
Rossall demanded she hang up. When she refused, he chased her around the kitchen table, caught her and threw her to the ground, resulting in a small cut to her ankle, police alleged.
The screaming match continued and the woman's sister, who was still on the line, phoned police.
Rossall retired to the bedroom and awaited the cops arrival. Police alleged Taitt entered the bedroom, armed with an 8-inch kitchen knife, accused him of having an affair and swung the knife at him several times.
He was cut on his inner left thigh.
Police said both accused "refused to co-operate with investigators and refused to have their injuries photographed once at the station."
Taitt suffered a scratch to her face and two small cuts on her right ankle, police said. Rossall had a small cut to his left knuckle, small cut to the tip of his right index finger, scratches to the right side of his neck and the small puncture wound to the thigh.
At last month's trial, Rossall stated he had lied to police after being coerced. Once Taitt was exonerated, Rossall pulled out an engagement ring and proposed to her in front of startled courtroom staff and Justice John Kerr.