In the second of three weekly excerpts from Between Interruptions, a collection of essays by Canadian women, Globe senior feature writer Marina Jiménez struggles to find balance between motherhood and the often dangerous demands of foreign reporting.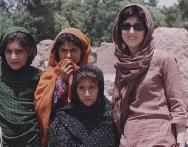 Foreign correspondent Marina Jimenez, right, in Pakistan near the Afghan border.
It was somewhere along the desert highway, just before the Jordan-Iraq border crossing, that I began to seriously question my sanity. The mother of an 11-month-old boy, I had just signed a waiver saying I would not hold the Hashemite Kingdom of Jordan responsible if I was hurt on the "very dangerous" road into Baghdad.
I was crammed into the back seat of a van, the only woman in a group of six, which included a driver, translator, cameraman and two other journalists.
My son, Alvaro, was thousands of miles away with my husband and nanny. I missed him desperately, his soft skin and sweet smell, his almond-shaped blue eyes, his tiny, perfect hands. I should have been home rocking him to sleep, not rocketing toward Baghdad. Instead, I had exchanged my baby carrier and diaper bag for a flak jacket and a laptop. I was surrounded by grizzled war correspondents. Torn between two worlds. Heartsick and homesick.