"Battle of the Sexes".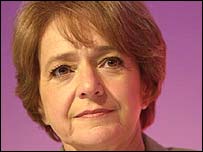 Margaret Hodge MP was at a Law Society conference
She was handcuffed by Mr Stanesby as she took part in a question-and-answer session afterwards.
He cuffed her wrist to his, saying: "Margaret Hodge, I'm arresting you for covering up child abuse."
This was a reference to Mrs Hodge's time as a councillor in Islington, north London.
Mr Hatch also attempted to handcuff the Cabinet minister and MP for Barking but was blocked from reaching her by Mrs Hodge's assistant private secretary.
At the trial Mrs Hodge described how she was "distressed" by the activists' actions.
'Upset and disturbed'
"I did have a pain on my wrist for about six months afterwards," she said.
"I was upset and I was very disturbed by that incident."
But Kyri Argyropoulos, for Mr Stanesby, suggested that the minister was not prepared to meet members of Fathers 4 Justice because of their past behaviour.
He suggested she was "far from accessible" - a charge Mrs Hodge denied.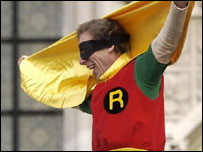 Jonathan Stanesby at a previous fathers' rights protest
Alan Wolstenholme, prosecuting, said the men "went much further than they were entitled to do".
The verdicts were met with cheers and applause from Fathers 4 Justice supporters in the public gallery.
The court heard how both men had previously been involved in high-profile protests for the group.
Mr Hatch, who gained notoriety after scaling the walls of Buckingham Palace dressed as Batman, thanked the jury after the not guilty verdict was read out.
He said he was "ecstatic" at the verdict.
"The jury are sending a clear message that the family law courts must be overhauled immediately.
"The breakdown in our society can quite clearly be traced to the breakdown of families. The only way this can be rectified is by stopping the secrecy of family courts.
"I carried out a citizen's arrest on Margaret Hodge and it looks like the jury thought I was justified to do so."