Chief's report decried intimidating behaviour of drug squad officers under investigation

Nick Pron
Courts Bureau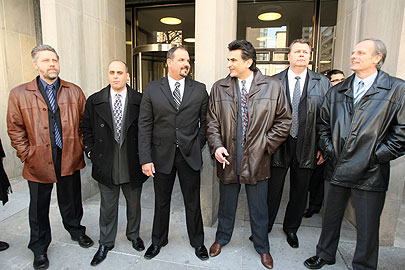 RON BULL/TORONTO STAR
Staff Sgt. John Schertzer (far right) and five constables (from left) Raymond Pollard, Steve Correia, Richard Benoit, Ned Maodus, Joseph Miched were charged in 2004 with beating up drug dealers.
A confidential report by Toronto Police Chief Bill Blair described the drug squad officers his force was investigating as "rogue" cops who were intimidating potential witnesses not to testify against them.
In his 2006 report to the Police Services Board, Blair said the Special Task Force set up in the fall of 2001 to investigate the allegations of beatings and theft by the six-man crew run by Staff Sgt. John Schertzer immediately ran into another problem – the Blue Wall.
The lack of co-operation from other officers and their "antagonistic" and "hostile" attitude toward detectives from internal affairs "slowed the investigation," Blair wrote in his 22-page report.
Schertzer and five constables – Steve Correia, Ned Maodus, Joseph Miched, Richard Benoit and Raymond Pollard – were charged in 2004 with beating up drug dealers and stealing their money.
While the case was committed to trial after a five-month preliminary hearing, Justice Ian Nordheimer stayed the charges last week, saying the six weren't getting a fair shake since prosecutors were moving at a "glacial pace" in disclosing evidence to defence lawyers.
The chief wrote his report in a bid to have the six-month deadline for filing internal Police Act charges against Schertzer's crew delayed because the case was dragging on before the courts.
In his report, Blair talked about the drug squad allegedly keeping a "slush fund" ledger, money supposedly spent by them on food and entertainment.
He also said a forensic audit revealed that the "spending patterns" of two of the officers, Schertzer and Miched, found "significant differences" from the time they were on the unit to when they transferred to other jobs on the force.
In other words, the two officers seemed to have "another source of funds" while they worked on the drug squad, wrote Blair. The other source of funds was not identified.
But last night, an angry Schertzer, who has since retired from the force, scoffed at that accusation from his former boss.
"That forensic accounting finding was about as bogus as that other so-called piece of evidence that we had offshore accounts all over the world," he said.
In his ruling, Nordheimer said reports that the drug squad kept secret offshore accounts were false, and accused the Special Task Force of deliberately planting that misleading evidence with the media to bolster the officers' prosecution.
As for the slush fund, lawyer Peter Brauti, who represented one of the officers, said last night that all the money taken from the "legitimate petty cash fund" kept by the officers was accounted for with receipts.
"One of the withdrawals was for flowers for one of the officers on the squad whose mother had just died," said Brauti. "That $40 withdrawal was repaid the next day."
In his report, Blair said the investigation began in 1999 after complaints from 10 lawyers that Schertzer's team had been beating up their clients – accused drug dealers – and stealing their money.
Blair also said there were complaints that people who were supposed to be paid for tips to the squad never got their money, although the records supposedly showed they had been paid in full.
Charges were initially laid against Schertzer and his squad in 2000, but those were later stayed when it was suspected there were major corruption problems within other departments of the force, and a bigger probe was needed, wrote Blair.
In the fall of 2001, a task force of 26 detectives and five staff was secretly put together to investigate a "much larger problem than was originally thought," wrote Blair.
"The focus of the Special Task Force was a criminal conspiracy involving alleged abuses against the judicial system," wrote Blair.
"This included fabrication of evidence, perjury, obstruct justice, and misconduct in the execution of search warrants, along with ... assault causing bodily harm, theft over $5,000, trafficking in narcotics, unlawfully in a dwelling house, threaten death, forcible confinement and breach of trust."
While the original investigation focused on Schertzer's drug squad, "there was significant potential for this investigation to expand to other police units," wrote Blair.
Two other officers, Constables Rick McIntosh and Bill McCormack Jr., were charged with corruption in allegedly extorting money from Entertainment District bar owners. A preliminary hearing in that case resumes Monday.
Blair said Schertzer's unit was involved in 2,100 prosecutions between 1995 and 1999 and each had to be reviewed to "identify potential evidence of wrongdoing by the officers, or to eliminate suspicion."
Blair described how one police informant who talked to internal affairs detectives was later approached by a drug squad officer who wanted to know what he had said. Soon after, a "sum of money" was mysteriously left outside the informant's house, said Blair.
Another informant who had spoken to investigators got "threatening phone calls," said Blair.
The informant was told to pass along a message to a detective with the task force probing Schertzer's crew: "Tell the investigator that he was getting sloppy," said Blair, in recounting the incident.
Blair said "potential witnesses were being threatened."
He said the task force's goal was to "remain fair, totally impartial, very objective" in gathering evidence.
But both justices Nordheimer and Casey Hill have criticized the "bullying" tactics of one investigator with the task force, and his bid to get another officer to "break the law" in helping gather evidence.