Bite mark evidence disputed in murder cases
February 29, 2008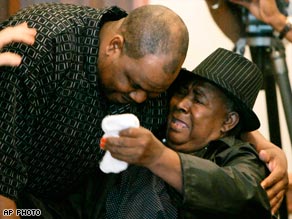 Annie Brewer, right, hugs son Kennedy Brewer moments after a circuit court judge exonerated him.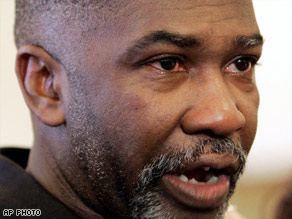 Levon Brooks speaks to reporters after a circuit court judge released him from jail and granted him a new trial.
MACON, Mississippi (AP) -- At a small-town courthouse in one of rural Mississippi's poorest counties, Dr. Michael West swore under oath that a dead girl had bite marks all over her body and that they were made by the two front teeth of the man charged with murdering her.
Such testimony had become commonplace for West. The dentist considered himself an authority on forensic odontology and had taken the stand at numerous trials as a paid expert for the prosecution.
On the strength of West's testimony and little else, a jury in 1995 convicted Kennedy Brewer of raping and murdering the 3-year-old girl and sentenced him to death.
Three years earlier, West gave similar testimony in a nearly identical rape-and-murder case involving another 3-year-old girl from the same town. West testified there were bite marks on the victim's wrist and they were made by Levon Brooks. Brooks, too, was found guilty and was sentenced to life in prison.
Today, more than a decade later, both Brewer and Brooks are out of prison, and prosecutors have all but pronounced them innocent. The reason: A third man confessed to both killings after DNA connected him to one of the rapes, investigators say.
As for West, his analysis of bite marks in the two murders -- and in hundreds of other Mississippi criminal cases over the years -- is under attack.
A panel of forensic experts that examined the Brewer case says the wounds on the victim were not human bites at all, but were probably caused by crawfish and insects nibbling on the corpse, decomposition, and rough handling when the body was pulled from the pond where it was found. Brooks' lawyers say West got it wrong in their case, too, by identifying scrapes as bites.
The turn of events has shocked the community, especially the victims' families, and led to accusations that West deliberately falsified evidence.
"You have people who engaged in misconduct and manufactured evidence and we've proved it," said Peter Neufeld, co-director of the Innocence Project, which has won the exoneration of more than 200 inmates nationwide and assembled the expert panel that examined the Brewer case.
"These two cases are going to be an eye-opener for the people of Mississippi about some of the problems they have in criminal justice and how easy it will be to make it right," Neufeld added.
West, a 55-year-old in private practice, did not return numerous calls to his Hattiesburg office.
Brewer, now 36, and Brooks, 48, were found guilty in the slayings, respectively, of Christine Jackson and Courtney Smith, who were killed 18 months apart. Both girls were daughters of the men's girlfriends, and both lived in Brooksville, a poor community of about 1,100 people. Both defendants were poor; Brewer is said to be mildly disabled mentally.
Forensic experts had testified for the defense at the trials of Brooks and Brewer that the marks on the victims were not made by human teeth. But the testimony seemed to make little difference.
Earlier this month, Justin Albert Johnson, a 51-year-old Brooksville man who had been a suspect early on, was arrested and charged in one of the murders. Investigators said he confessed to both killings after DNA analysis proved that his semen was in the victim in the Brewer case.
Brewer, who was released on bail last year, a few years after DNA tests excluded him as the rapist, was finally exonerated by a judge on February 15.
"I ain't worried about the past. I'm thinking about the future," Brewer said. But he offered some advice to prosecutors: "They need to get the truth before they lock up the wrong somebody. It doesn't feel good to be called a rapist and murderer."
As for Brooks, he has a court date on March 10, when prosecutors are expected to drop the case against him. He is already back home, living with his 83-year-old mother.
In its February 2007 report, the Innocence Project panel of top forensic odontologists from England, Canada and the U.S. concluded that West had misinterpreted the purported bite-mark evidence in the Brewer case.
Panel member Dr. David Senn, a forensic odontologist for the county medical examiner in San Antonio, told the AP that the experts were "scratching their heads to figure out how he could come to the conclusions he came to."
"Forensic odontology is a very sound science when it's applied properly. In our opinion, it was not applied properly," Senn said. Of West's theory that the purported bite marks were made by two front teeth, Senn said: "To bite someone, you have to bite with both jaws. The story doesn't make sense."
According to Senn, West resigned from the American Academy of Forensic Sciences in 1994 and the American Board of Forensic Odontology in 2006 after ethics complaints were brought against him. Senn would not disclose details of the complaints.
The panel's report contained no suggestion that West acted deliberately. But the Innocence Project has called for a criminal investigation of West and state pathologist Dr. Steven Hayne, who had also concluded the marks on the bodies were bites. The organization is asking for a review of the hundreds of cases in which Hayne and West were involved.
"The truth is, if they'll do it in one, they'll do it in a dozen," Neufeld said.
Hayne said he has done nothing wrong, and he remains on the job. "All I did was present the facts that I saw," Hayne said. "I did the post-mortem examinations. I didn't link them or exclude them."
The district attorney who prosecuted both defendants, Forrest Allgood, disputed any suggestion that his office knowingly sent the wrong men to prison.
"It torments the innocent individual, undermines the public confidence in the justice system, and the bad guy is still running loose," he said. "Why people would believe that's something we would want to do is beyond me."
Allgood said he has not used West as a forensic expert since the mid-1990s. He said West was once considered one of the world's foremost authorities in his field, lecturing in China and England.
"Subsequently the whole situation turned into a train wreck," the district attorney said.
Copyright 2008 The Associated Press. All rights reserved.This material may not be published, broadcast, rewritten, or redistributed.