Chris Morris
THE CANADIAN PRESS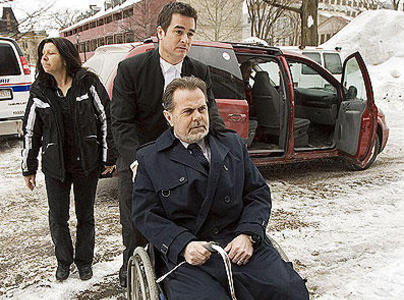 ANDREW VAUGHAN/THE CANADIAN PRESS
Erin Walsh of Kingston, Ont., escorted by his lawyer Sean MacDonald, arrives at court in Fredericton, N.B., where he was acquitted of a 1975 murder conviction, on March 14, 2008.
FREDERICTON–A dying Ontario man has been granted a last, great wish: to be acquitted of a murder he was wrongly convicted of almost 33 years ago in New Brunswick.
Erin Walsh, who is in the final stages of terminal colon cancer, cried and hugged his wife and his lawyers Friday after a panel of judges with the province's Appeal Court quashed his murder conviction and entered an acquittal.
Walsh shakily stood up from his wheelchair and thanked the three high court judges.
"Please accept my heartfelt gratitude on behalf of my family and myself," he said, leaning heavily on a cane. "This is a tremendous relief for me."
The Appeal Court moved with uncharacteristic speed in considering Walsh's case.
The unorthodox hearing, expedited because of Walsh's illness, came about after both federal and New Brunswick justice officials agreed there likely had been a miscarriage of justice.
Walsh, 59, of Kingston, Ont., was convicted in October 1975, of using a sawed-off shotgun to fatally shoot Melvin (Chi Chi) Peters in Saint John, N.B.
He served 10 years in prison before getting parole and has been in and out of custody since for parole violations.
Walsh has never claimed to be an angel, but has always maintained he was innocent of the murder. He desperately wanted the stain of that conviction removed from his life.
The acquittal came about after Walsh himself uncovered information and documents relating to his case that had not been presented to the jury during the trial. The information included evidence suggesting another person had actually shot Peters.
"This means I'm a free man," a euphoric Walsh told reporters outside the courthouse.
"Freedom now means something to me. It's not just a word. It's something I'm going to wear every day of my life just like I wore my captivity."
Walsh's lawyer, James Lockyer of the Association in Defence of the Wrongly Convicted, said the acquittal is a great ending to a difficult story.
"Erin has spent a lot of time in prison, as did so many of the others," Lockyer said of the wrongly convicted.
"He was in less time than David Milgaard and longer than Donald Marshall. They're all tragedies in their own way but they are also great endings to all the stories. Today was a tremendous ending to Erin's case."
Walsh has filed a lawsuit against the prosecutor from his 1975 trial, as well as police officials. But he didn't have much to say Friday about the civil case.
"It's not something I'm thinking about right now," he said. ``It will be pursued vigorously but I can't say anything more.
"My focus has been on vindication."
The man who prosecuted Walsh, William McCarroll, is now a provincial court judge in Saint John.
Peters was shot to death in a car jammed with five people, including Walsh, after a long day of drinking and carousing in Saint John.
Walsh, who was transporting illegal drugs in his car, said the men he had been drinking with tried to rob him.
There was a gun, a struggle and the gun went off, killing Peters. Walsh insisted he didn't pull the trigger, but police and prosecutors treated it like an open-and-shut case.
It took a jury only four hours to convict Walsh.
Walsh got a break in 2005 when he asked for and received documents from the New Brunswick Archives relating to his case.
Included in the material was a jail cell conversation between two of the men who had been in the car. One asked the other why he shot Peter, but the two ended up fingering Walsh for the crime and testifying for the prosecution.
McCarroll has defended his decision to ignore the information, saying it was "the jabbering of drunks."
But the Appeal Court judges said the jail house talk and other evidence should have been presented because it could have raised reasonable doubt in the minds of the jurors.
Walsh said his family, his lawyers and his strong faith in God helped him keep fighting to clear his name.
"This is the best day of my life," he said. "I've been working hard towards it for 33 years and finally it's here.
"I want to thank God who has kept me strong throughout this ordeal, and my family and my lawyers."