Now, don't get me wrong.
I trust my wife, Pam, implicitly. She is known everywhere as a pillar of probity, the apotheosis of virtue and trustworthiness. No one coming away from talking to her could have any impression other than that she is as faithful to me as the day is long.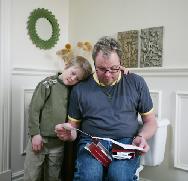 Adam and David Eddie pore over the instructions of the Identigene paternity test kit, which is available only online in Canada. (Charla Jones/The Globe and Mail)
My spies even tell me (of course I have spies: I trust her, but she's not unattractive and I'm not stupid) that at parties where I am not, she dances mostly with other women.
My sweet, virtuous angel.