TORONTO — Fathers across the country are taking more time off when their children are born, according to new research from Statistics Canada, and Quebec dads are five times more likely to take paternity leave than men in the rest of Canada.
From 2005 to 2006, the percentage of men claiming paternity benefits in Quebec increased from 32 to 56 per cent, while the number of men taking parental leave in the rest of the country remained steady at 11 per cent.
Over the same time period, the average amount of time taken for paternity leave outside Quebec rose from 11 weeks to 17 weeks.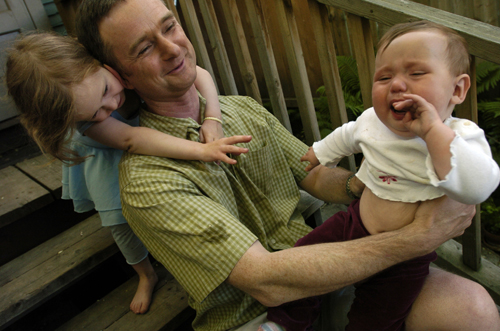 Andrew Bell took parental leave in 2004 to look after his daughters Sasha, then 3, and Maeve, 8 months, at his home in Toronto. (Louie Palu/The Globe and Mail file photo)
Researchers can explain why Quebeckers are more likely to take paternity leave: The province introduced a new parental leave program in 2006, offering five weeks of non-transferable leave for fathers as well as higher benefits. So far it's the only province to go beyond the federal parental leave program.