An Ontario man convicted of assaulting a teenage girl 21 years ago was exonerated Wednesday by the Ontario Court of Appeal after new information revealed imprisoned killer and serial rapist Paul Bernardo had confessed to the crime.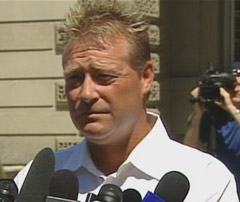 Anthony Hanemaayer was exonerated Wednesday in the 1987 assault on a teenage girl after convicted killer Paul Bernardo recently confessed to the crime. (CBC)
Speaking outside the Court of Appeal in Toronto, London resident Anthony Hanemaayer, now 40, said he was relieved and pleased that he had finally been acquitted, after serving jail time.
"Why it took so long, I have no comment, I have no idea," he said.
"I'm very happy that it's over.… It was very stressful. I'm a very soft kind of guy. To have something like that over my head, that people would think of me that way, is mind-blowing."
Three Appeal Court justices formally acquitted Hanemaayer of a 1987 knife assault on a 15-year-old girl in her Toronto bedroom.
"There has been a miscarriage of justice," Justice Marc Rosenberg said as the court reversed Hanemaayer's conviction.
The Crown earlier submitted that it had no case against him in light of the new information.
"The fresh evidence points to only one conclusion — Paul Bernardo committed this attack," Crown counsel Howard Leibovich said in a legal argument filed this week with the court.
"It is clearly in the interests of justice that the fresh evidence be admitted, the appeal allowed and the appellant's conviction[s] set aside."
Plea bargain lands Hanemaayer in jail
At the time of his trial in 1989, Hanemaayer pleaded guilty and was given a jail sentence of two years less a day.
Speaking to CBC News, he said he accepted a plea bargain on the advice of his then lawyer, who warned he could receive a long prison sentence.
After serving his sentence, Hanemaayer said he didn't hear about the case until Toronto police questioned him about it again in 2006.
At that time, he said, police were aware that Bernardo had confessed to the assault on the 15-year-old, but they didn't mention it to him.
The confession was brought to Hanemaayer's attention late last year by the Association in Defence of the Wrongly Convicted (AIDWC), a legal rights organization.
Appearing Wednesday in the Appeal Court, he formally withdrew his guilty plea from 1989.
Hanemaayer said the Crown's case against him in his 1989 trial was founded on an erroneous eyewitness identification of him by the mother of the victim during a quick encounter early in the morning at the time of the attack.
Unreliability of eyewitness identifications
The AIDWC took up Hanemaayer's case earlier this year upon learning of the Bernardo confession, and complained it should have been reopened immediately after the admission.
Hanemaayer's lawyer, James Lockyer, said he hoped the case would alert officials again to the unreliability of eyewitness identifications, and the dangers of building prosecutions on them.
Lockyer also called for a new investigation into crimes that might have been committed by Bernardo during the 1980s and early '90s, to search for more wrongful convictions and miscarriages of justice.
"What a piece of luck that Bernardo should decide — for God knows what reason — that he would finally confess," Lockyer said. "Our [legal] system should not have to depend on someone like him to come forward and confess the way he did."
Bernardo is serving a life sentence in Kingston, Ont., for the first-degree murders of Ontario schoolgirls Leslie Mahaffy and Kristen French.
Later at a news conference, Hanemaayer's lawyer said he would be seeking compensation but gave no specific details of what that request would entail.
With files from the Canadian Press