Revenge can be sweet if a soured marriage that ends in divorce inspires a darkly funny cake
Kim Honey
Food editor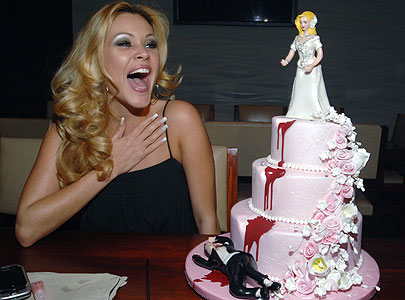 Shanna Moakler celebrated the off-again phase of her relationship with Blink-182's Travis Barker with a triple-tiered divorce cake in Las Vegas.
After Trish Ally booked the hotel suite and invited the guests, she wanted to order a cake for a friend who was going through a divorce.
"He turned out to be a big jerk," she told Toronto baker Karen Wielonda. "Do you have any ideas?"
That's when Wielonda, a specialist in off-the-wall shaped cakes, came up with the idea of a voodoo-doll confection, complete with marzipan pins and needles.
"I think I had tweezers, too," Wielonda says with a laugh.
Ally decided to throw the divorce party "as a new way to express being single." The cake was just "a cute idea, something different" to do.
"They didn't want to see his face, but they wanted to see this hideous gold grill he used to wear," the baker says of the former husband. Wielonda set to work, and the result was a two-dimensional cake in the shape of a man, with a paper bag covering his head save for a small cutout showing a gold tooth decoration. All around were the marzipan weapons.
When Ally dreamed up the idea for the divorce cake, she had no idea until later that she was tapping into a small but growing movement.
Ever since Toronto food trend expert Dana McCauley wrote about divorce cakes in April, it has been one of the top three Internet searches that lead readers to her blog at homemakers.com.
Once she started tracking it, she found a flurry of media reports about divorce cakes that followed in the wake of TV star Shanna Moakler's divorce from Blink-182 drummer Travis Barker. At Moakler's divorce party at a Bellagio nightclub in Las Vegas, guests were treated to a tiered wedding cake that featured a knife-wielding bride standing on top, while blood dripped down the side to the bottom, where a mortally wounded groom lay.
McCauley found a few reports here and there, most noticeably a mention of divorce cakes in the January edition of Time magazine as part of a larger story on the business of divorce.
But she concluded the practice isn't a full-blown trend, despite almost 700,000 Ontarians, or nearly 7 per cent of the population, reporting in the 2006 Census that they were divorced.
The cookbook author checked with her Facebook friends, most of whom are in the food industry, and only one said they had ever been asked to make a divorce cake. Another said she had been to several divorce parties and though there had been no divorce cake, there had been cake at every one.
Still she concluded that people are searching for information after her blog started bringing in nearly an email a day from people asking where they could buy divorce cakes like those pictured in some of the five photos that McCauley had found online.
At Dufflet's three locations in Toronto, only one employee could recall being asked for a divorce cake – but the customer only wanted a message written on the cake.
"I think they go out for drinks when they get divorced, not cake," says CEO Dufflet Rosenberg. "It calls for champagne."
McCauley says divorce cakes are in the same category as divorce cards and black roses for the ex. They're novelty items, usually ordered by a woman to help bring a friend out of her funk.
"I guess it's the old `if you get lemons, make lemonade' adage," McCauley says.