Breathalyzer loophole closed as Ottawa takes aim at drivers impaired on alcohol or drugs
Precious Yutangco
Staff Reporter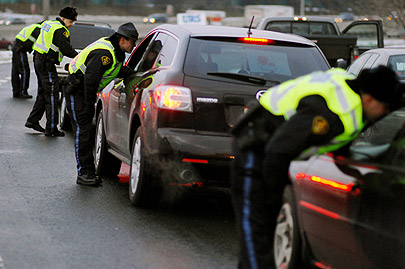 CARLOS OSORIO/TORONTO STAR
OPP officers check vehicles at the Hwy. 401 on-ramp at Avenue Rd., December 31, 2007.
Canada's justice minister says suspected impaired drivers will no longer be able to refuse roadside sobriety tests and may face stiffer fines and longer jail times.
During a press conference held at John Quay on the Toronto waterfront this morning, Rob Nicholson, along with the Ontario Provincial Police, Toronto Police Service and Mothers Against Drunk Driving, sent a clear message that people driving while high or drunk will not be tolerated.
In an announcement made just in time for Canada's first major holiday of the summer, Nicholson said drivers who are suspected of being high will no longer be able to refuse roadside sobriety tests.
Additionally, he said people who are suspected of being impaired by drugs and refuse to provide a blood or urine sample when they're stopped can now be slapped with charges.
Police also now have a right to take any drivers suspected of being under the influence of drugs to a police station for more intensive tests or to extract a blood, urine or saliva sample.
Nicholson also said impaired drivers will face a minimum $1,000 fine for a first offence and up to a month in jail if they're caught a second time.
He added that the government is closing "one of the great loopholes" in the system by making it harder for drivers to challenge breathalyser tests in court.
That is something that MADD national president Margaret Miller said members of her organization will be "ecstatic" about.
Miller said too many people have gotten off their charges on technicalities, and the new rules will change that.
During her statement, she talked about her son Bruce, who died in a car accident in Prince Edward Island on May 16, 2004. After the incident, Miller said she found out the driver of the other vehicle was doing 178 km/h per hour and had a blood-alcohol level of .243. The legal limit is .08.
"We are so excited that this has finally happened," she said. "The end result is that people will be on the highway less doing drugs or drinking ... it equates totally to less deaths on our highways."
The new rules, enforced under the new federal Bill C-2, will kick in on Wednesday.