Stab suspect 'cut baby from womb'
Tuesday, 1 July 2008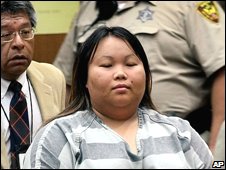 Police discovered blood-soaked gloves in Ms Synhavong's bag
A 23-year-old woman stabbed to death a pregnant woman and cut the child from her womb, US court papers say.
The documents say Phiengchai Sisouvanh Synhavong called emergency services after last Friday's attack and tried to pass off the new-born baby as her own.
The child survived the ordeal and is said to be seriously ill in hospital.
Judges in Benton County, Washington, remanded Ms Synhavong in custody on Monday. She is expected back in court on Wednesday.
Court papers said 27-year-old Araceli Camacho Gomez had her hands and feet bound and suffered "massive trauma to her stomach area" during last Friday's attack.
An autopsy showed Ms Gomez died as a result of the chest wounds, but had other wounds "consistent with the cutting of the body to remove an unborn child", the documents said.
Her body was found on Saturday in Columbia Park in the city of Kennewick, 225 miles (360km) south-east of Seattle.
Hours earlier, Ms Synhavong had called emergency services to say she had given birth to a baby.
When crews arrived, they discovered her in a car holding what appeared to be part of an umbilical chord with the new-born baby next to her, court documents say.
Police found gloves soaked in blood, a rudimentary medical kit and a baby bottle in her bag.
A medical examination later revealed Ms Synhavong had not given birth, according to the authorities.
She is accused of first-degree murder and could face the death penalty.